Nell Herrmann Blue Hill Consolidated School
Renee and Alex Amado had an OTC at their house over the summer and used it to compare phenological events of lilies in a warming chamber versus a control plot. They collected daily observations, took daily temperature readings and photographed the lilies in both plots. The dates of flower set and first blooming were earlier in the OTC than in the control plot. In contrast, the date of last bloom was earlier in the control plot than in the OTC.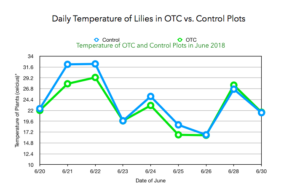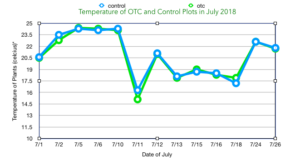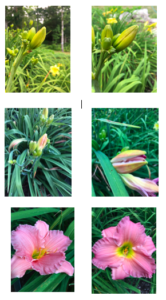 ---
Ayesha T. Qazi – Northside College Preparatory High School – Chicago, IL
Day 1  Prairie Phenology Study
92 AP Environmental Science students formed small groups consisting of 4-6 students and they claimed their prairie plots in our school's backyard. Students used yellow construction flags to mark their 4ft by 4ft territory and prepared for their long-term phenology study. Students used iNaturalist app to identify all the different species of plants, pollinators, or anything "alive" that they captured within their plot. After inputting that data in an excel sheet, students will dive into exploring the phenophases they expect the different species will experience.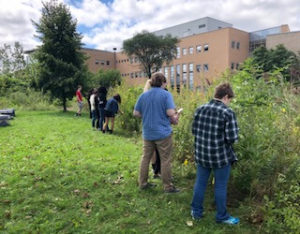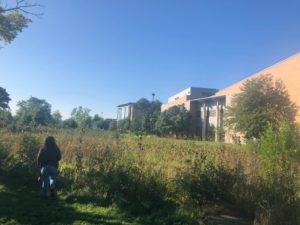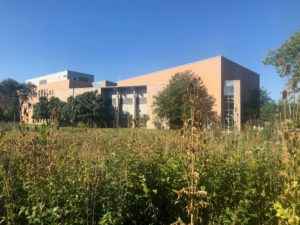 ---
Nell Herrmann Blue Hill Consolidated School
We had a great time at West Coast APPLES! Here are some highlights from the week.
---
Cinda Murray Northwestern High School
Each year Springfield Elementary in Pennsylvania raises and releases Monarch caterpillars.  This year, Paul Broadwater, an eleventh grade student at Northwestern High School, created an inquiry video that could be used for future elementary science lessons.
The video can be streamed from https://vimeo.com/277514883
---
Cinda Murray Northwestern High School
Reflecting back on a project that was proposed for a Donors' Choose Grant
posted Sep 28, 2017, 11:59 AM by Cinda Murray   [ updated Sep 28, 2017, 11:59 AM ]
Each year we host a Weekend With the Arts event where students display their original works of art. Unfortunately, many academic track students who take Chemistry do not get a chance to experience the benefits of art education. This project provides a unique experience that includes art in a natural setting. While outside, students observe, photograph, and collect flower petals along our school's phenology trail. Later in the classroom, chemistry students use an investigative approach to extract plant pigments using solvents commonly found in our school chemistry classroom. After evaluating the best solvent for each collected flower, the chemistry students will develop a procedure that can be shared with art students.
By implementing the collaborative project, Chemistry and Art students will be working side by side to create paintings of observed flowers from pigments they extracted from flower petals.
Together the students will create a colorful palette of paints made from collected flowers. The paints will be labeled based on the wavelength determined by a spectrophotometer. Spectronic curvettes, spot plates, and collection jars are needed to test and store the pigments.
Art students benefit from the chemistry students' designed methods and a student-led hands on science learning activity. In return, art students will instruct chemistry students on painting techniques. Portable easels, brushes, canvases, and palettes are needed to allow the combined groups of students to paint outdoors along the school's phenology nature trail. Close collaboration between the science and art teacher will ensure that all students involved benefit and that students become aware of the connections between art and science. The student-produced paintings will be displayed at the school district's annual art show and throughout the community.
The rest of the story on Donors' Choose website at
https://www.donorschoose.org/project/from-petal-to-palette-painting-with-ext/2785079/?utm_source=dc&utm_medium=page&utm_campaign=project&utm_term=teacher_1516654&rf=page-dc-2018-06-project-teacher_1516654&challengeid=20453985
---
Richelle Jochem Goodman Armstrong Creek School District, Wisconsin
https://photos.app.goo.gl/buyzadGGsZz3za599
I created a time lapse video of ice melting using google photos.
---
Joanne Dougherty – Sacred Heart Academy – Bryn Mawr
I just made my first time lapse video! Check out ice melting on a hot day in June.
---
Fernando Vargas, Arroyo Valley High School.
This is Fernando Vargas from Arroyo Valley High School in San Bernardino, CA. I applied to this program in hopes to beef up my photosynthesis unit by incorporating plant phenology and real world scientific data. This program has exceeded my expectations as I have met great science teachers from around the country. This program has given me resources to use in my classroom that will align with the Next Generation Science Standards. I cannot wait to share this information with my students to help get them a hands on experience on current climate change research. Additionally, I will share my knowledge with other science teachers.
---
Pernille Sporon Boving UC Davis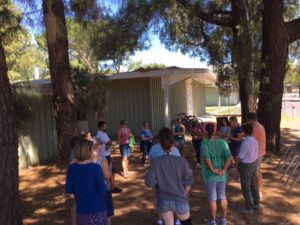 ---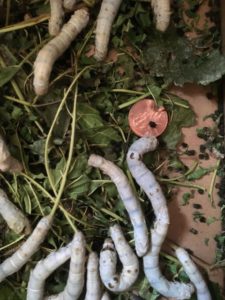 Silkworm Colony.  Students grew two colonies of silkworms under two different temperature regimes.
---
Lindsay Smith – Mooresville High School – Mooresville, NC
Plants, plants, and more plants!
I have learned so much about plants today! We started with a plant scavenger hunt. Look at all the different types of plant parts we collected.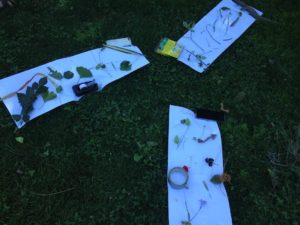 We also did a plant biodiversity study in the arboretum and I saw these interesting plants. The first picture is of a plant gall on an oak tree.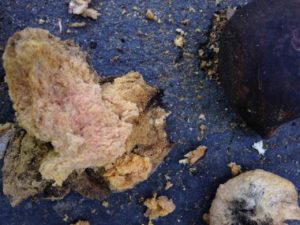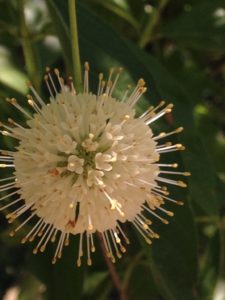 We ended our day with a beautiful walk at sunset and I saw these sunflowers.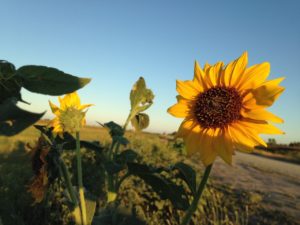 ---
Pat Foy Charter Oak High School Covina CA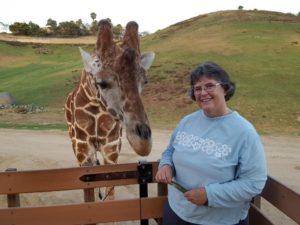 What an amazing workshop! lots of new tools to help explore plant phenology
---
India Carlson Ballard High School
Plants from the plant walk at the UC Davis Arboretum here at the APPLES workshop. https://drive.google.com/open?id=0B8-Px9fUQHcbbUZLanUzZjRWTXRIRnhVQ0JDR0JLLWQ0WHVR
---
Kristina Fuller, APPLES program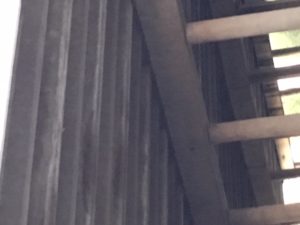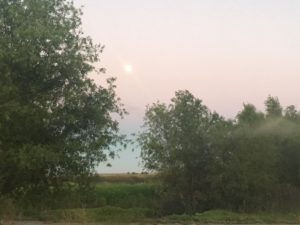 Below are some videos as the bats leave for the evening. We learned they will eat almost their entire weight worth of insects before returning.
https://drive.google.com/open?id=0B5F-smmQU5UhZWlwaGJpSFRuZE9XelNtNFFiSUU3ZmdhU2tz
https://drive.google.com/open?id=0B5F-smmQU5UhaC00YUxjZzRRWUlWOU1VOE4wUU1ZUkhWMVpV
---
Robert Wilson Rowland Hall Upper School
Half Day of Service at Jordan River Galena Soo'nkahni Preserve.  My students spend a day in the fall and a day in spring working to restore the riparian ecosystem along the Jordan River.  We remove noxious weeds and plant native plants.
---
Joanne Dougherty Sacred Heart Academy – Bryn Mawr
We are having a productive, informative, and meaningful week full of great discussion with motivated teachers here at the 2018 West Coast APPLES workshop at UC Davis. I love discussing best practices with other teachers, approachable research scientists, and engaging curriculum facilitators. I'm looking forward to getting my time lapse camera and OTCs (Open-Top Chambers) set up back at campus when I return. This workshop is giving me the confidence to get outside and help my set up students set up experiments so they can get a handle on experimental design, field work, data collection, analysis, and interpretation.
---
Ayesha T. Qazi – Northside College Preparatory High School
On June 26th Team Gingko built an ITEX chamber (International Tundra Experiment) to explore the effects of temperature changes on flora. We reached received a time-lapse camera and conducted an experimental trial using just ice! I look forward to sharing these experiences and technology with my students in Chicago.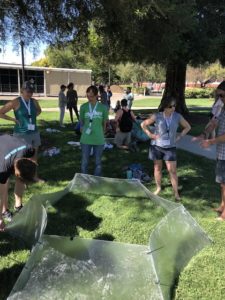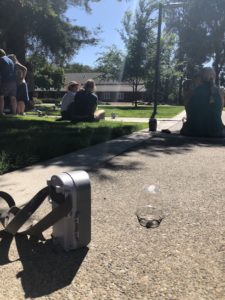 ---
Eva M Dopico
Climate Change and Phenology are serious subjects but we still fine a sense of humor on them ??????????????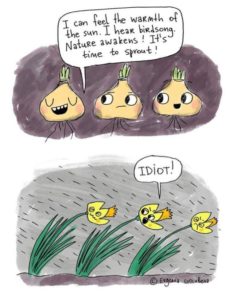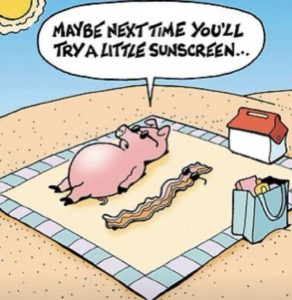 ---
Pernille Sporon Boving UC Davis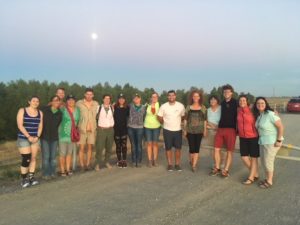 ---
Richelle Jochem Goodman Armstrong Creek School District, Wisconsin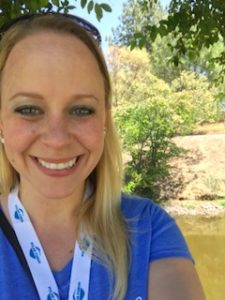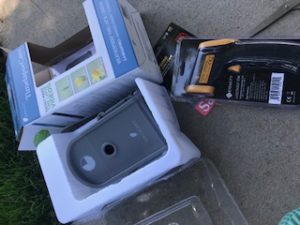 ---
Margarete Oeckinghus – Two Rivers Elementary, Fairbanks, Alaska
I am in the middle of the training at Davis and am loving every minute of it.  I can't wait to get back to my students and share all of this great material with them.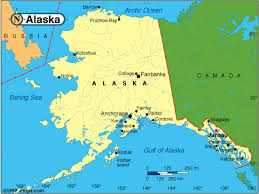 We are about 40 minutes northeast of Fairbanks.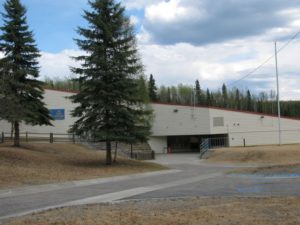 We are a small school of 80-100 students surrounded by forest on all four sides.
Look for updates after school starts!
---
Kailin Duan, San Marino High School
Testing of the time lapse camera – the beginning and end of the melting of an ice cube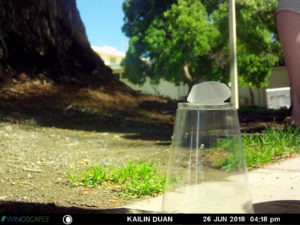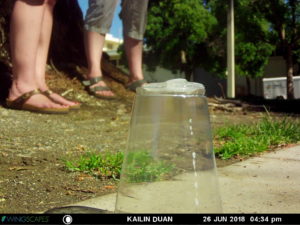 ---
Kristin Joivell Juniata Valley Elementary School
Crop Production Study
April 2017 to October 2017
In this study from April 2017 to October 2017, students conducted a crop production study using basil plants.  During this study, students from two different school years collaborated to grow, harvest, and process the basil while keeping data about the growth of the plants.
The first step in the crop production study was planting the basil seeds.  Our class received a Donors Choose grant for an indoor garden with lighting for growing plants.  In April, the students planted the basil seeds to grow in our indoor garden.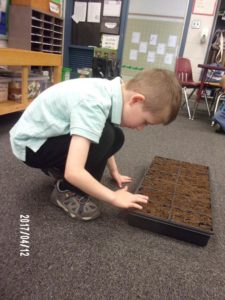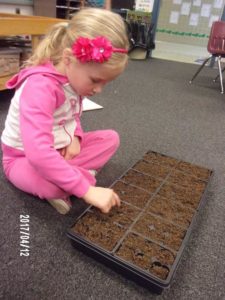 Throughout the months of April and May, the students cared for the basil plants in the indoor garden.  The next four photographs show the progression of the basil plants as they grew.
Here are the basil plants on April 12: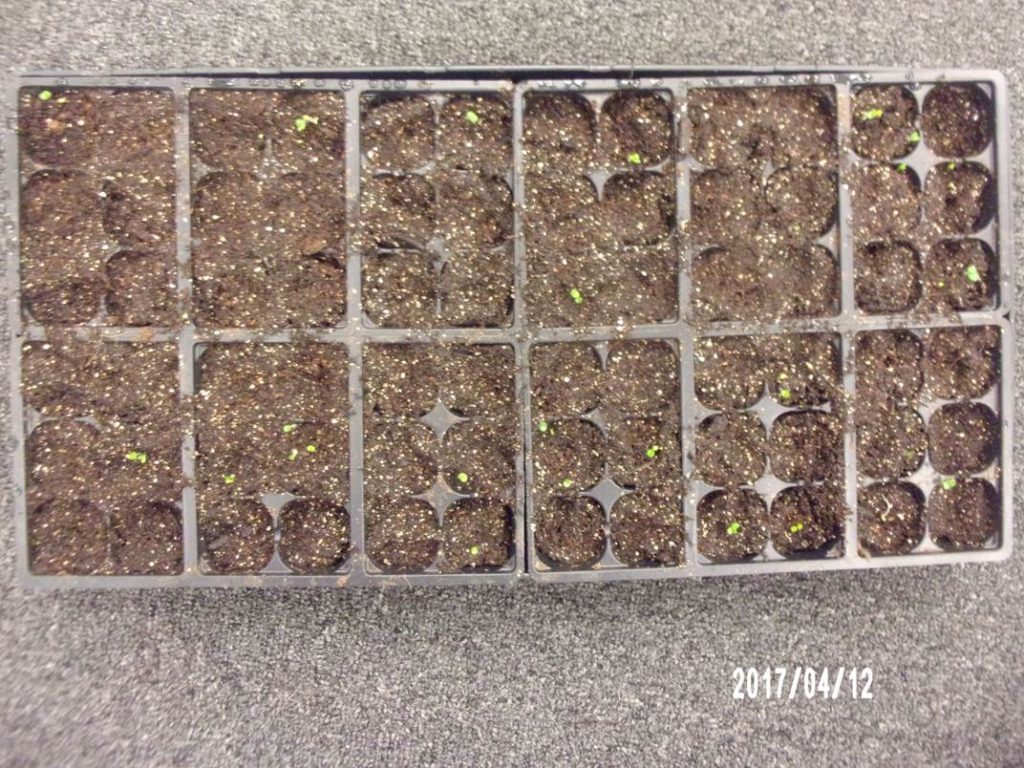 Here are the basil plants on April 17: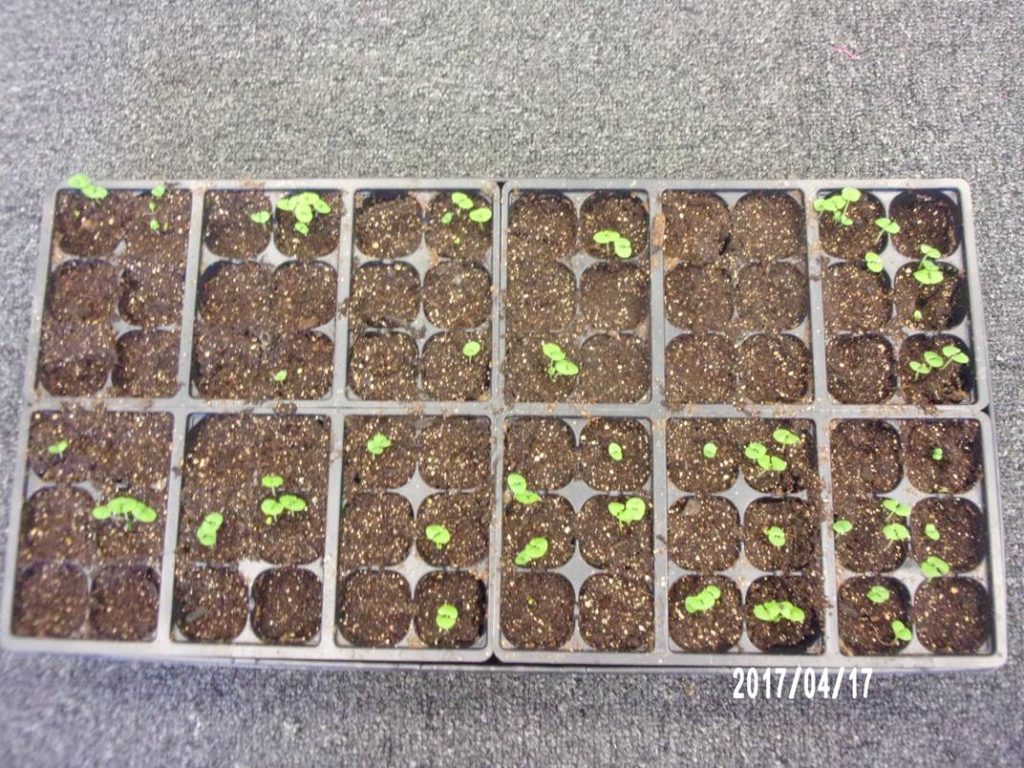 Here are the basil plants on April 27: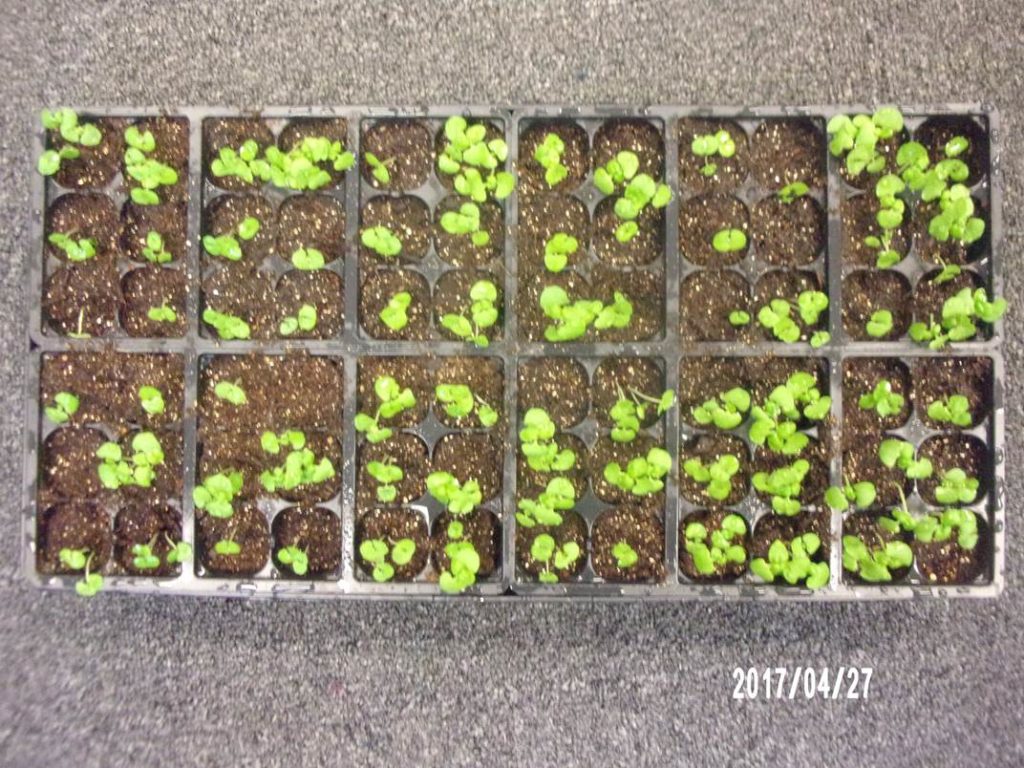 Here are the basil plants on May 23: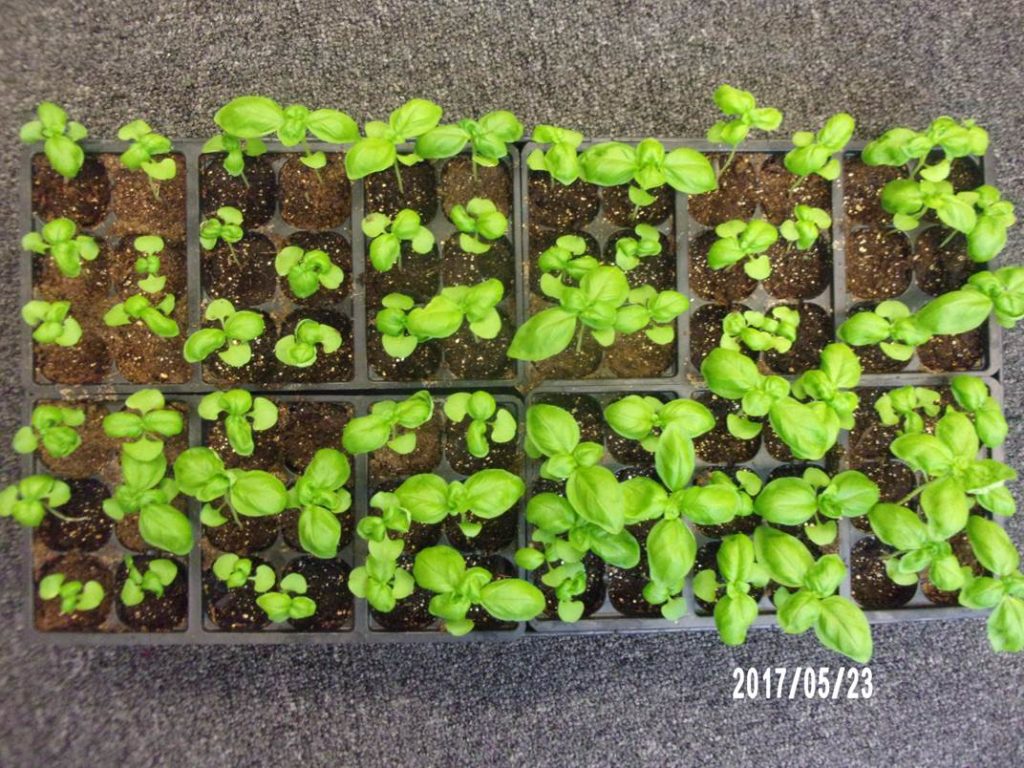 As the basil seeds grew, students recorded their observations in garden journals.  As you can see, students were noticing the changes in the leaves and sizes of the basil plants.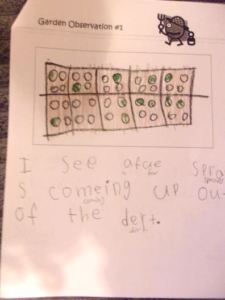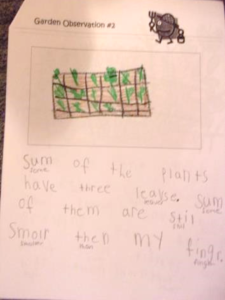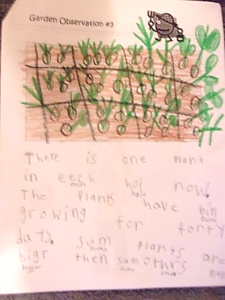 The next step was to transplant the basil plants into the two plots in the outdoor garden–the warmed Open Top Chamber Plot and the unwarmed Fenced Plot.  At the end May, there were 72 basil plants transplanted into each plot.  The students continued to care for the basil plants in the outdoor garden as the school year concluded.
The basil plants continued to develop throughout the summer months.  In the following sets of photographs, the warmed Open Top Chamber Plot is shown first and the unwarmed Fenced Plot is shown second.
Here are the basil plants on June 1: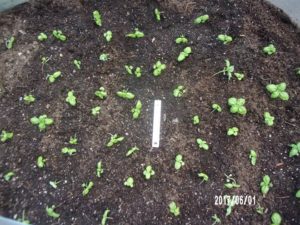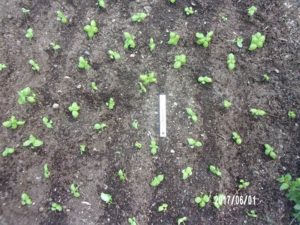 Here are the basil plants on July 3: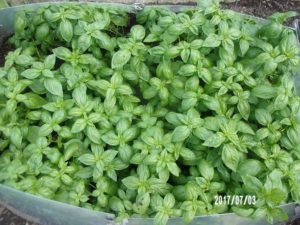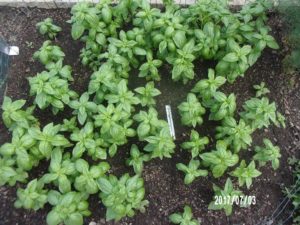 Here are the basil plants on July 18: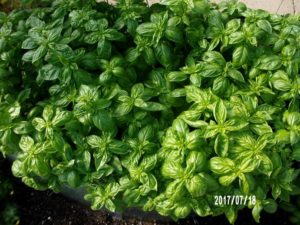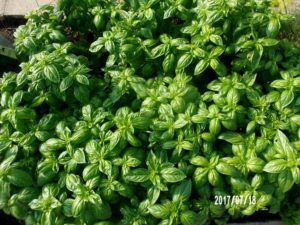 Here are the basil plants on August 1: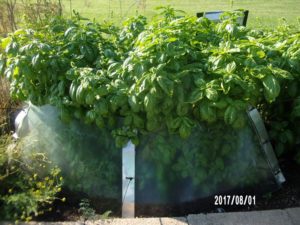 Here are the basil plants on August 23: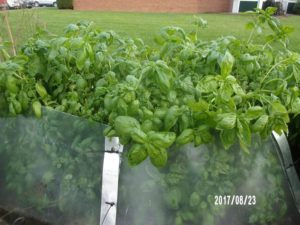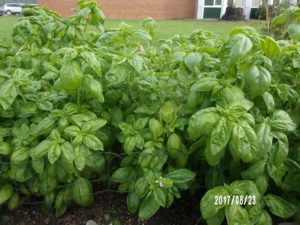 Throughout the summer, I harvested the basil plants that had reached the blooming phenophase for processing.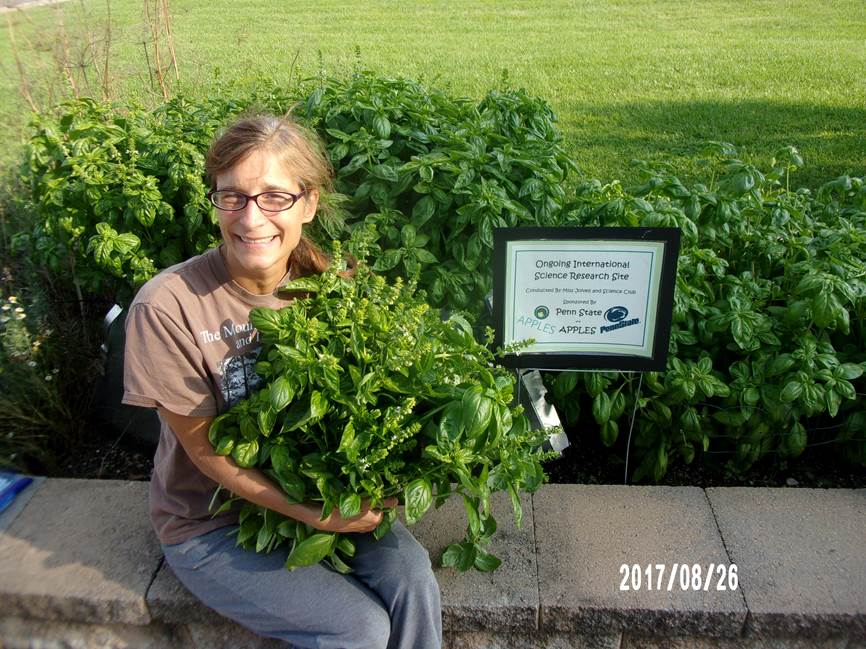 When the new school year began in August, I taught the new kindergarten students how to identify the blooming phenophase in basil plants, so that they could help with the harvest.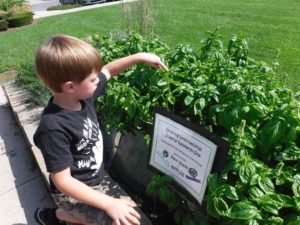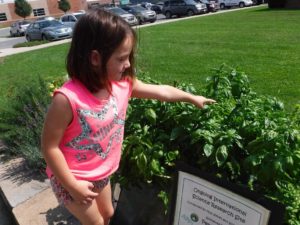 Then, the students helped to harvest the basil plants and process them.  We harvested the basil plants, pulled off the leaves, and discarded the stems.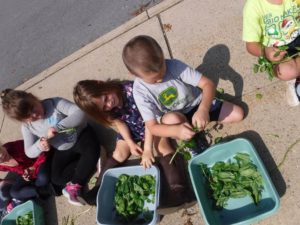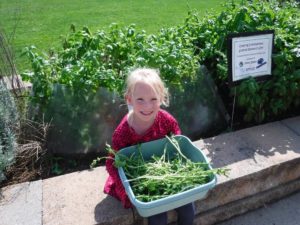 Next, we weighed the harvested leaves before processing them into pesto.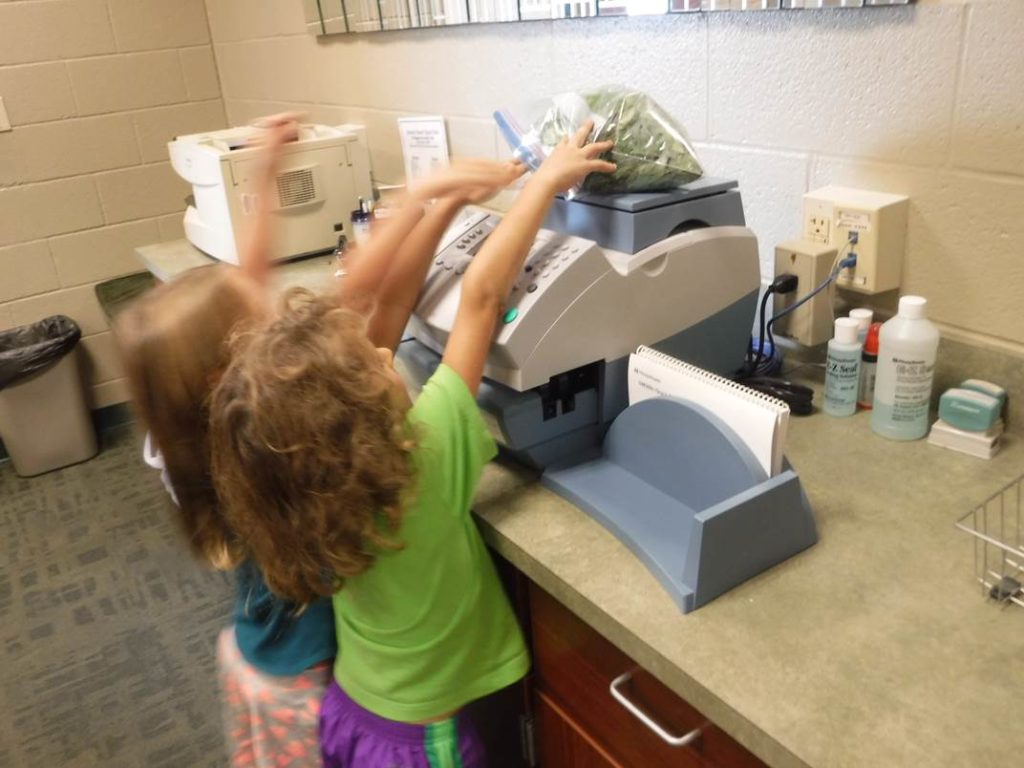 Finally, students from both school years came together for a final discussion about the results of the study and to share a snack from the harvest together.  At the gathering, the students viewed photographs of the plants during the entire study, made inferences about differences in growth in the warmed Open Top Chamber Plot and the unwarmed Fenced Plot, and enjoyed sampling pesto created from the basil plants that they had worked together to grow.  Additionally, the pesto from the basil leaves was served at a variety of whole school events during the 2017-2018 school year including Open House, Family Reading Night, and Family Science Night.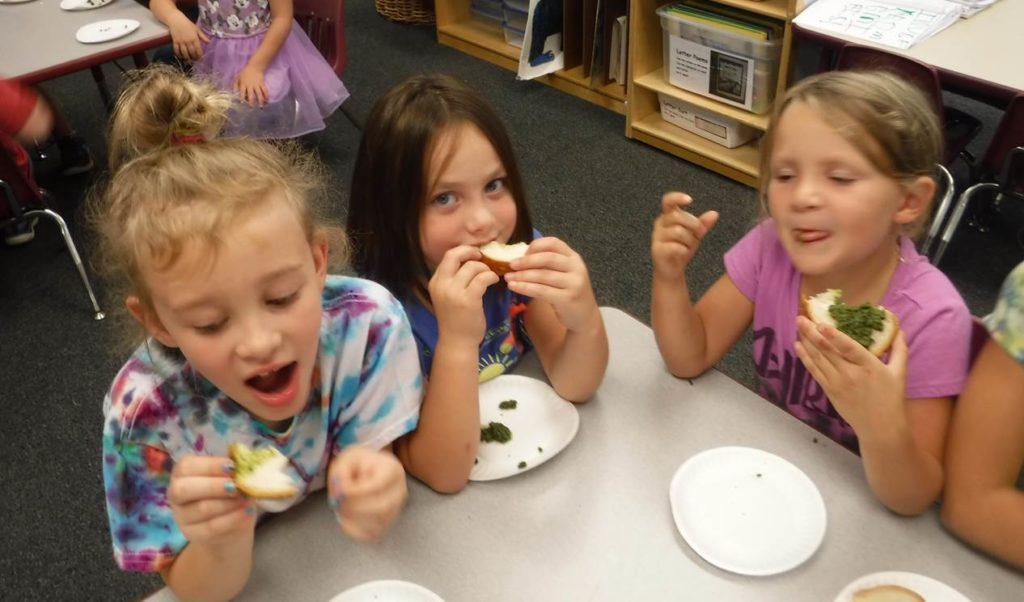 ---
Kristin Joivell Juniata Valley Elementary School
Tree Growth Study
2016-2017 and 2017-2018
In this study over two school years, the kindergarten students monitored the changes in a sugar maple tree.  The students focused on making observations of the sugar maple tree during each seasonal change as phenophases changed throughout the year.  Additionally, the time lapse camera took a daily photo of the sugar maple tree to be used in a time lapse video to be viewed at the end of each school year so that students could see all of the changes over the entire school year compiled together.
We took a single photograph of the sugar maple tree during each season to showcase the phenophases.  For fall, leaf color change was the prominent phenophase.  For winter, leaves dropped was the prominent phenophase.  For spring, blooming flowers was the prominent phenophase.  And for summer, seed development was the prominent phenophase.
Here is the sugar maple tree for fall, winter, spring, and summer in 2016-2017: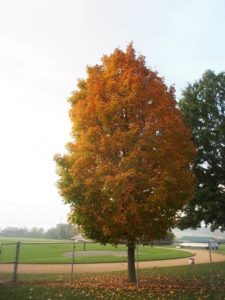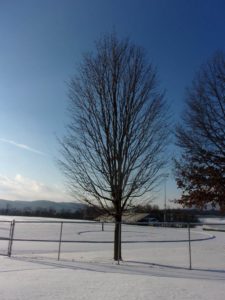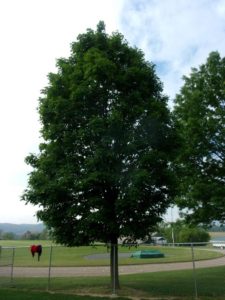 Here is the sugar maple tree for fall, winter, spring, and summer in 2017-2018: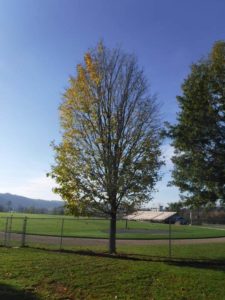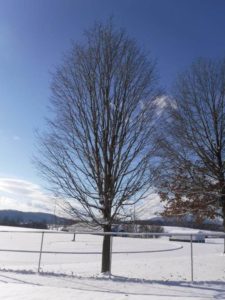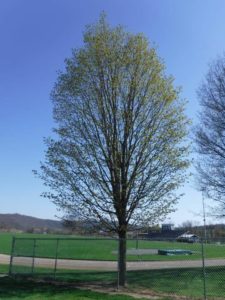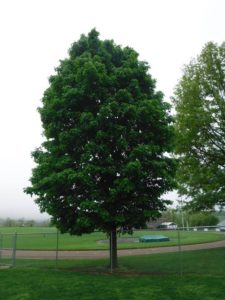 Students wrote and drew pictures of observations about the sugar maple tree once during each season in their journals.  As you can see from their work, they noticed the features of each of the phenophases the sugar maple tree was going through during the year.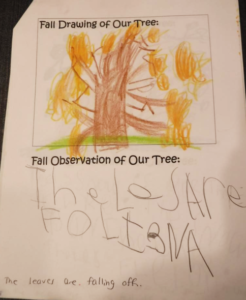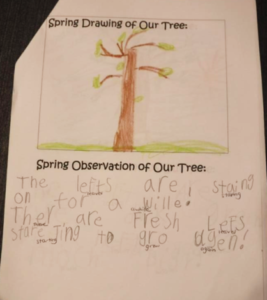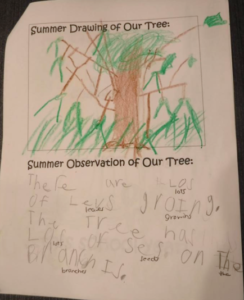 The time lapse camera took daily photos of the sugar maple tree throughout the school year.  Then, those photos were used to create a time lapse movie of the changes to the sugar maple tree.  Students each school year viewed the time lapse movies to compare and contrast sugar maple tree growth over the school year.
---
Kristin Joivell Juniata Valley Elementary School
Plant Phenology Study
April 2017 and April 2018
In this month long study in April 2017 and April 2018, the kindergarten students compared and contrasted the growth of tulip and crocus bulbs in warmed and unwarmed plots.  Students learned and observed phenological stages, monitored and documented temperatures, recorded data in plant phenology journals, and made inferences about the comparative growth of the plants in the two plots.
The plots in April 2017 looked like this: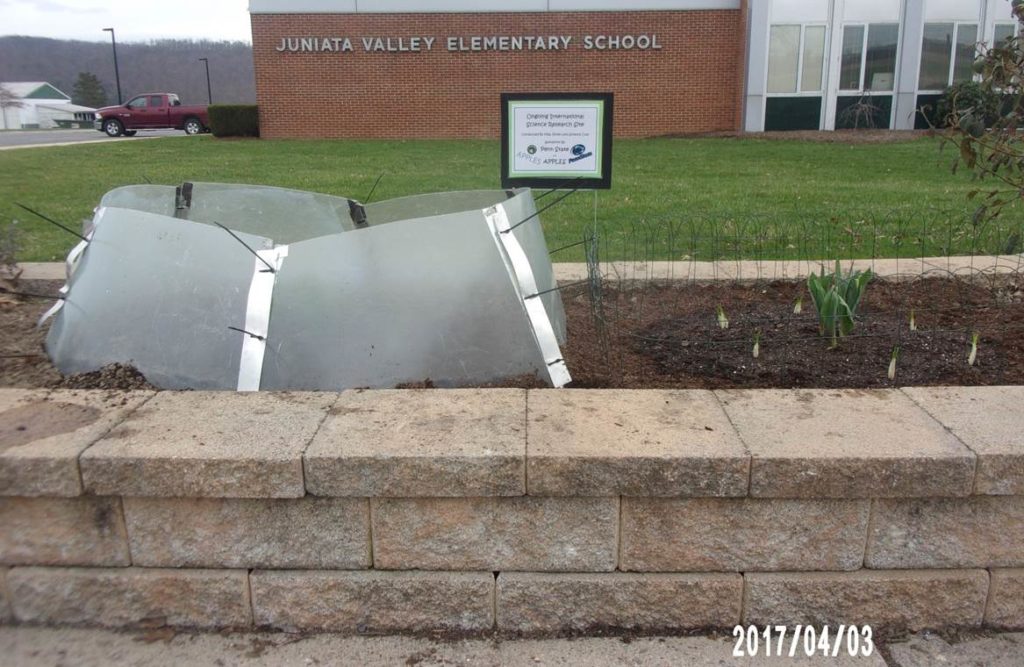 The plots in April 2018 looked like this: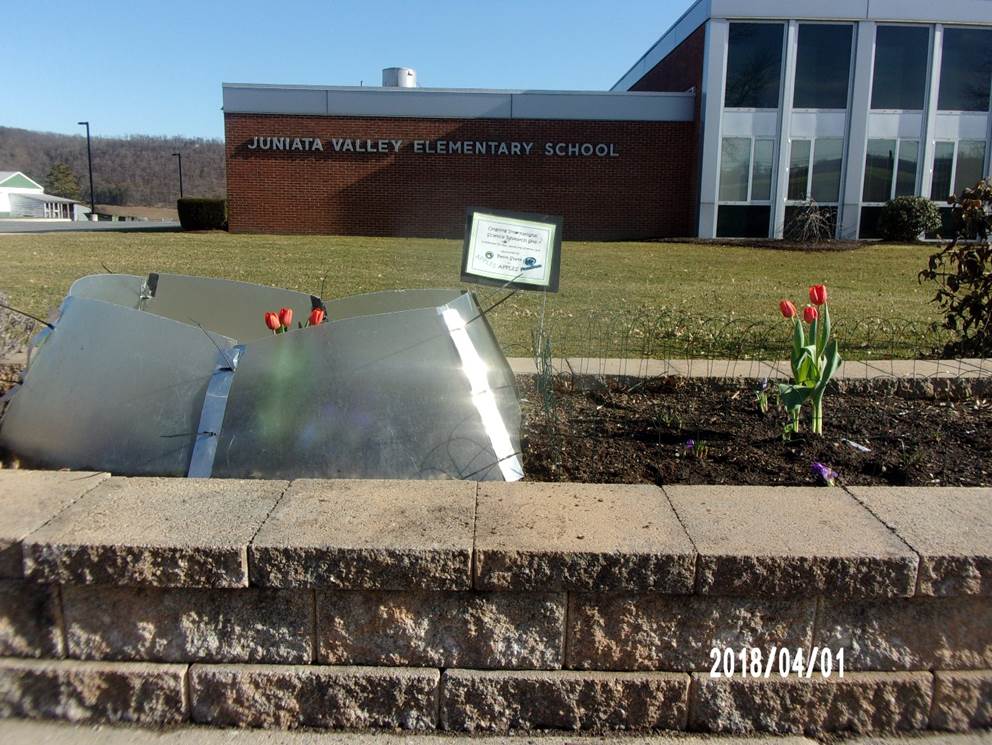 Students recorded data into plant phenology journals during each of the studies using a letter to represent each of the plant phenophases focused on in our study.  To indicate budding plants, the letter B was used.  To indicate blooming plants, the letter O was used.  To indicate wilting plants, the letter W was used.  And to indicate plants in which the petals had fully fallen off, the letter X was used.  In the photos below, you can see how this student collected data and reflected the plant phenophases using the letters to indicate their observations.  The warmed Open Top Chamber Plot is featured in the first photo and the unwarmed Fenced Plot is featured in the second photo.  Then, the third photo shows student phenophase observations for that same date's observations.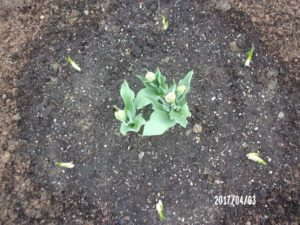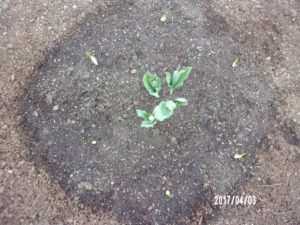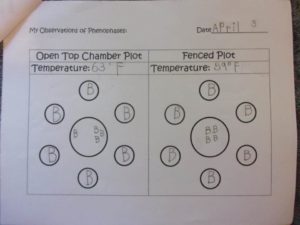 Throughout both years of study, students worked to make observations about plant phenophases and indicate the stages in their journals.  Students became very skilled at immediately recognizing the phenophase for each plant.  Students engaged in discussions about the differences in the plant phenophases in the warmed and unwarmed plots.  Students used their own data from that they collected in their plant phenophase journals as evidence to back their claims about what they noticed happening and why they thought it was happening.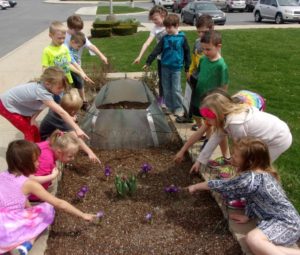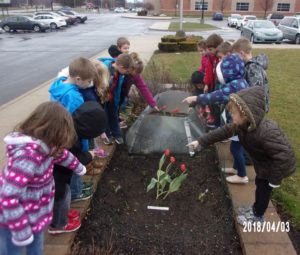 As the study ended after the second year in April 2018, the students worked to dismantle the plots from the raised garden bed.  It was both a sad and an exciting day for the class–sad because our plant phenophase study was over, but exciting because the students knew the materials from the plots would be re-used for further work.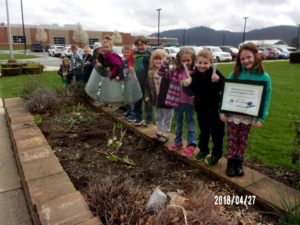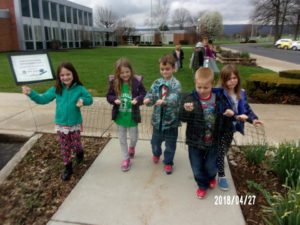 The fencing from the fenced plot found a new home as the protection for our class hemlock tree from the Seedlings for Schools Program, a partnership program of the Pennsylvania Game Commission's Howard Nursery and the Wildlife for Everyone Foundation.  Since the Seedlings for Schools initiative began in 2008, 1.3 million seedlings have been dispersed statewide to every county in Pennsylvania!  The fencing will guard the boundary of our class hemlock tree's growth during the next few years to help avoid damage from lawnmowers and other human impacts.  The Open Top Chamber will find its new home next school year in 2018-2019 as development of our school garden lessons continue.  It is planned for use as the warmed plot in a comparative study in crop production.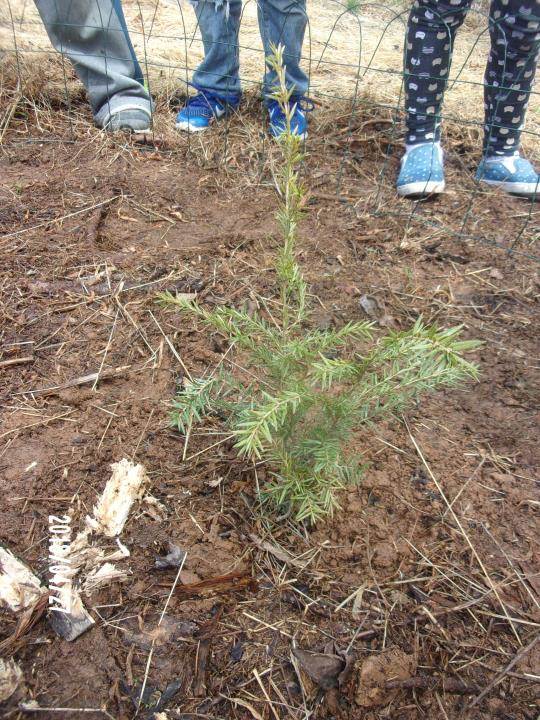 Don't worry, our plants were not disposed of after the study!  The students worked to transplant them into our flower garden near the raised garden beds on our school campus.  First, they carefully dug up the bulbs from the raised garden beds.  Then, they dug holes for bulb placement in the flower garden and placed the bulbs into the holes.  Finally, they patted down the dirt around the newly transplanted bulbs.  The tulip and crocus bulbs from our plant phenology study will keep growing year after year in this flower garden for students to enjoy as they arrive and depart from our school campus.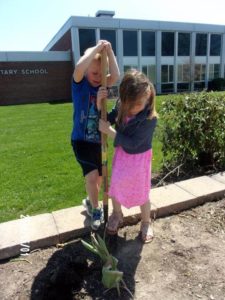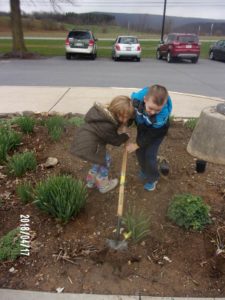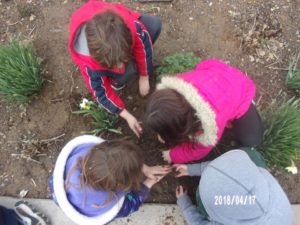 ---
Nell Herrmann Blue Hill Consolidated School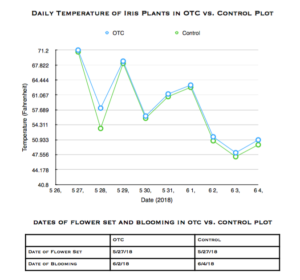 Blue Hill Consolidated School (BHCS) students have used used OTCs to determine the effect of slight temperature increases on goldenrod, common tansy and other wild plants, and are now using OTCs in studies in the flower garden. A recent study with iris plants demonstrated that OTCs do indeed speed up life cycle events of plants; the iris in the experimental plot bloomed two days before the iris in the control plot. BHCS siblings Alex and Renee have an OTC set up at their house this summer to compare lilies in an OTC to lilies in a control plot. We can't wait to see what happens!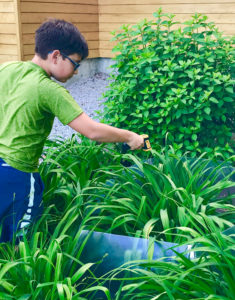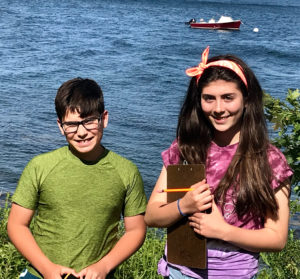 ---
Nell Herrmann Blue Hill Consolidated School
Student graphs of Dr. Post's long term data from Greenland are shown here. Eighth graders created the graphs on their iPads, using the data shared on the APPLES website. Dates of emergence are shown for tundra plants from one of three study sites: Doc, Bashful or Dopey. Dates are based on the Julian calendar; for example, day 155 on the Julian calendar is June 4th. The activity helped students understand trends in data and helped them see that scientific data isn't always neat and tidy! In most cases, students observed that the dates of emergence for plants has gotten earlier during the ten years this data was collected.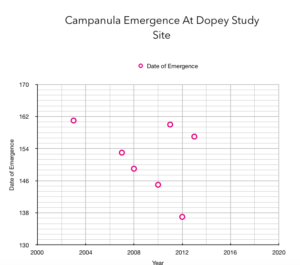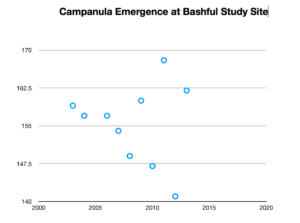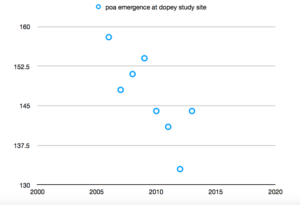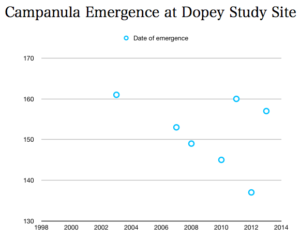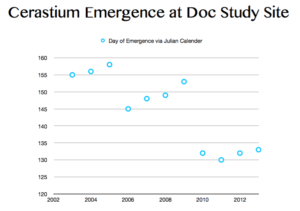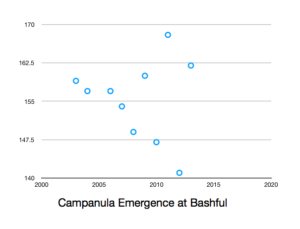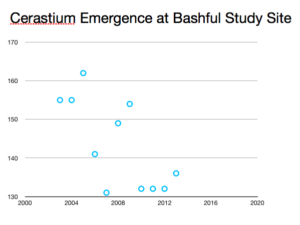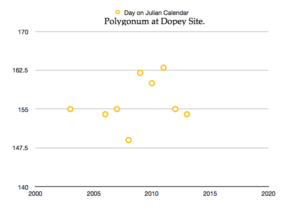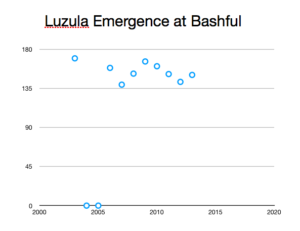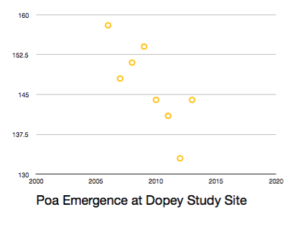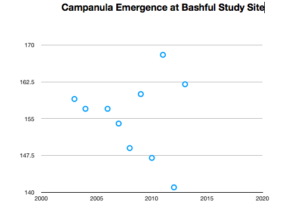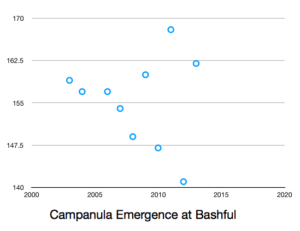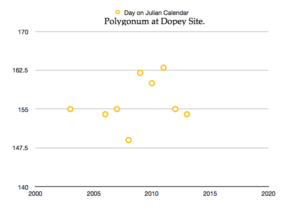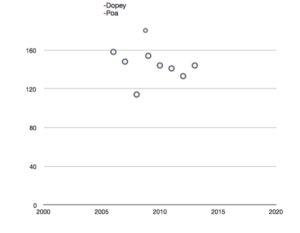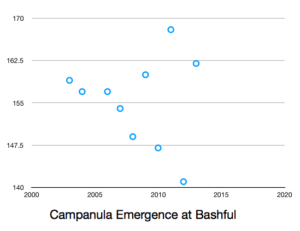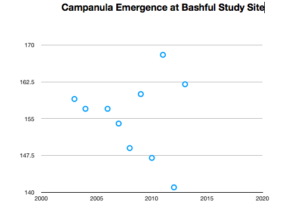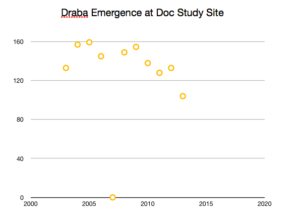 ---
Nell Herrmann Blue Hill Consolidated School
Today 8th graders from Blue Hill Consolidated School examined long term data from Dr. Post's study sites near Kangerlussuaq, Greenland. The data set consists of annual observed first dates of emergence and leaf opening by various plant species. This is part of an ongoing effort to monitor the timing of plant emergence and species-level variation in emergence timing in relation to observed variation in climate and weather. Observations were recorded on a daily or near-daily basis on multiple, randomly distributed, permanently marked plots. The first date of emergence or leaf opening for each species observed on each plot was recorded as the day of the year.
Eighth graders chose a study site (Bashful, Dopey or Doc) and a plant species (Betula, Calamagrostis, Campanula, Carex, Cerastium, Draba, Equisetum, Festuca, Luzula, Poa, Polygonum, Pyrola, Salix, Stellaria) for their data examination. They plotted the date of emergence or leaf opening for the species selected from the years 2003-2013. The activity sparked excellent conversations about data, graphing and observing trends and patterns. Exploring real world data from Greenland was particularly exciting!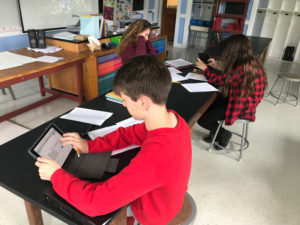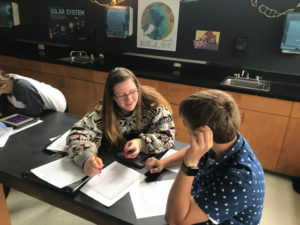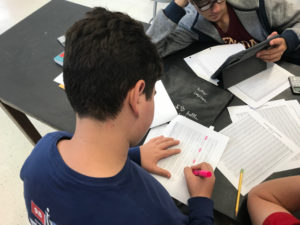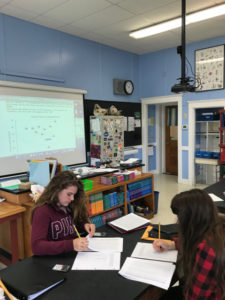 ---
Nell Herrmann Blue Hill Consolidated School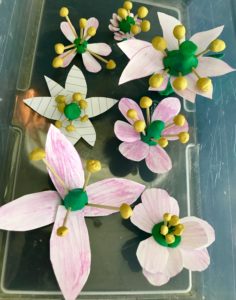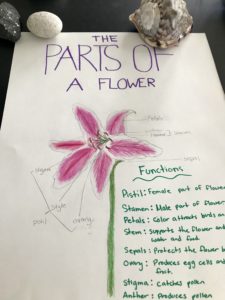 We are continuing today with our investigation of angiosperms. 7th graders modeled them and 8th graders drew them. Next week we'll compare phenophases of angiosperms inside and outside warming chambers!
---
Nell Herrmann Blue Hill Consolidated School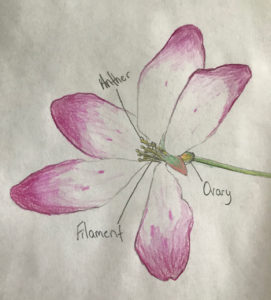 Spring has sprung in Maine! Eighth graders from Blue Hill Consolidated School are examining and drawing apple blossoms today to gain a deeper understanding of the life cycle of angiosperms.
---
Susan A. Smith, NBCT Takotna Community School in Takotna, AK
It has been six months since we have seen our open top chambers from the ground. We have had literally tons of snow since October 24th, however there are holes in the snow from which we can shine our thermometer into to get the temperatures. On several occasions it was entirely too cold to get a reading, mostly for the outside of the OTC. Lately we have not been able to dig our holes due to large depths of ice,  but the air temperatures were in the 40's this past week so we have hopes for this Tuesday's temperature readings.
My class has graphed each week's data and it is interesting to see the temperature fluctuations. We will be comparing the data my students on St. Paul Island took last year to see if there are any correlations. I am looking forward to having this discussion, because I want to see how well these 3rd and 4th graders can analyze data they did not collect.
Unfortunately my photos are all too large to post and I do not know how to reduce them to post them. I will definitely have them on my powerpoint presentation in July.
I am looking forward to seeing you in July at Penn State. Our different projects will be fun and education to see and discuss.
Susan
---
Susan Smith Takotna Community School
Just a couple more photos from Susan's new job as K-4th teacher and principal for Takotna Community School in Alaska. The town has 21 kids and 65 people. Susan told us that last week the students were not allowed to walk to school until after daylight had broken because there were wolves in town.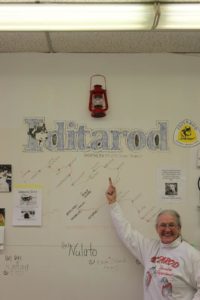 ---
Susan Smith Takotna Community School
These are current temperature graphs, in Celsius, of 3 OTCs being used by students from Takotna Community School in Alaska. The students were surprised at the fluctuation in temperatures they saw during the first few weeks of the study and now expect downward spiraling lines due to snow. The last photo is of the community during the Iditarod Sled Dog Race in March. One OTC is across the road from the green conex container closer to the river. One is off the photo to the right about about 100 yards in a grassy family house yard, and the 3rd one is at the school about 1/4 of a mile west of the big red building in the left hand corner.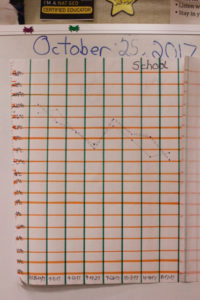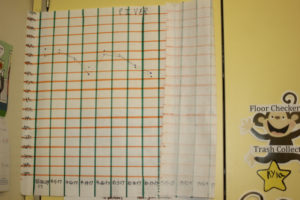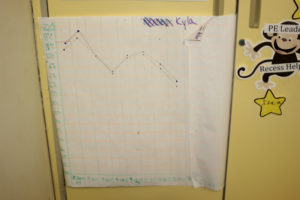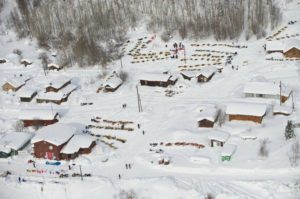 ---
Susan A. Smith, NBCT Takotna Community School in Takotna, AK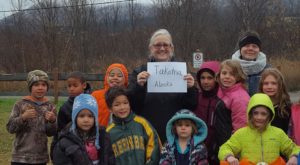 ---
Ms. Muscaro's students collected anecdotal evidence from April – June using the OTC and a control plot. There was a faster rate of initial growth in the OTC plot versus the control. Students harvested strawberries about a week earlier in the OTC plot than in the control plot. The same cultivar of rhizomes were planted on the same day/time, watered for the same amount of time, and mulched with the same amount of straw. An adjacent plot was used for the control to keep sunlight and soil temperature consistent.
---
Jess Muscaro Pittsburgh Public Schools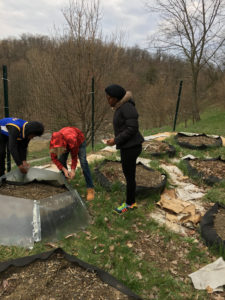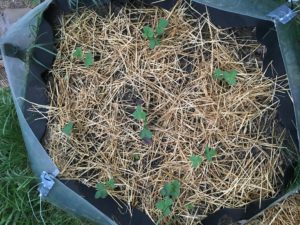 ---
Nell Herrmann Blue Hill Consolidated School
A group of students from Blue Hill Consolidated School have been completing an investigation on Kentucky Blue Grass this summer, comparing grass planted within a warming chamber to grass planted in a control plot. In addition, they have been comparing alder in a warming chamber to alder in a control plot. The results of their exploratory project will be shared with incoming students and the community in September.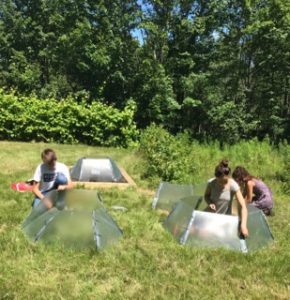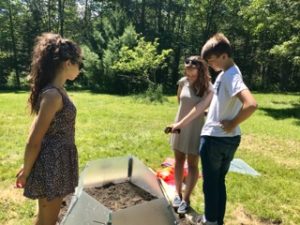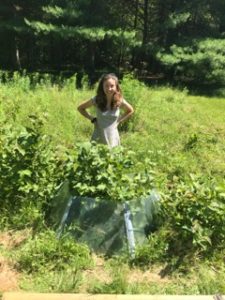 ---
Susan Smith, Pribilof Islands, AK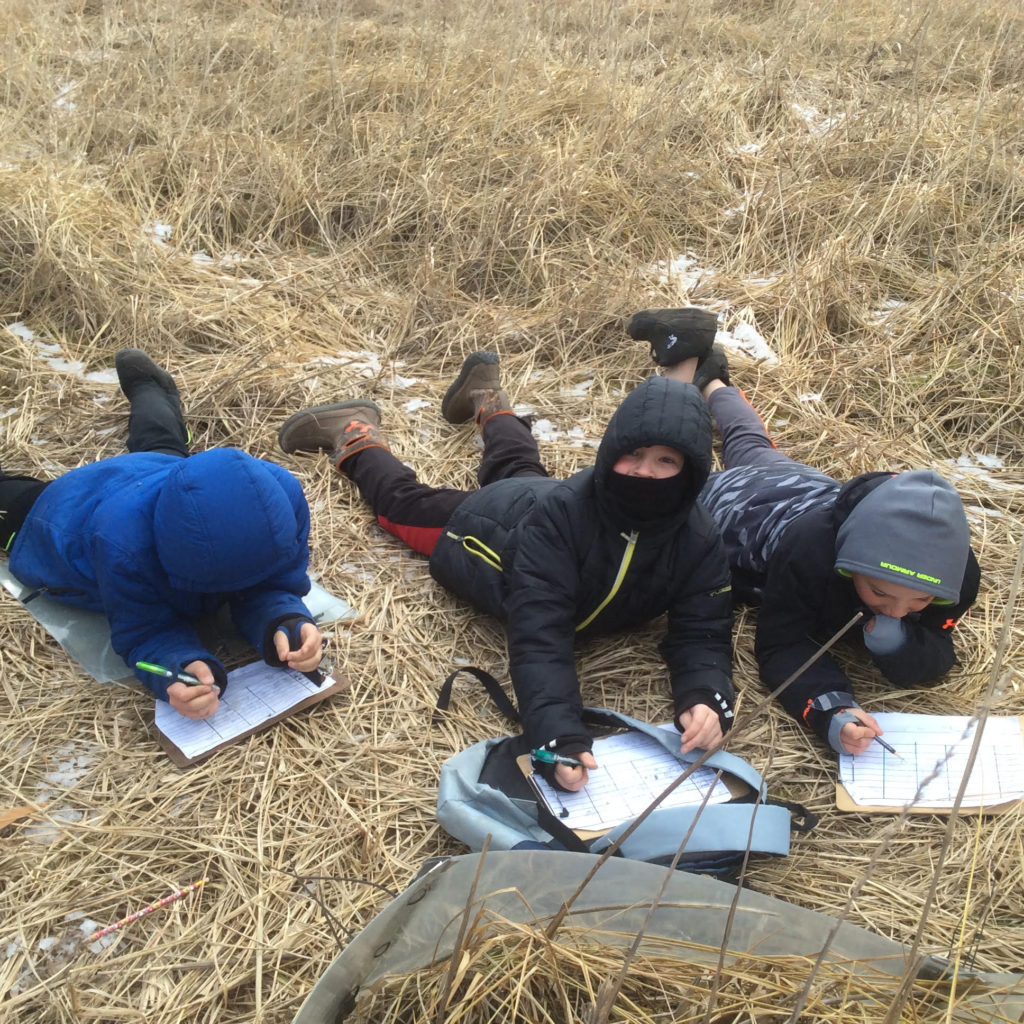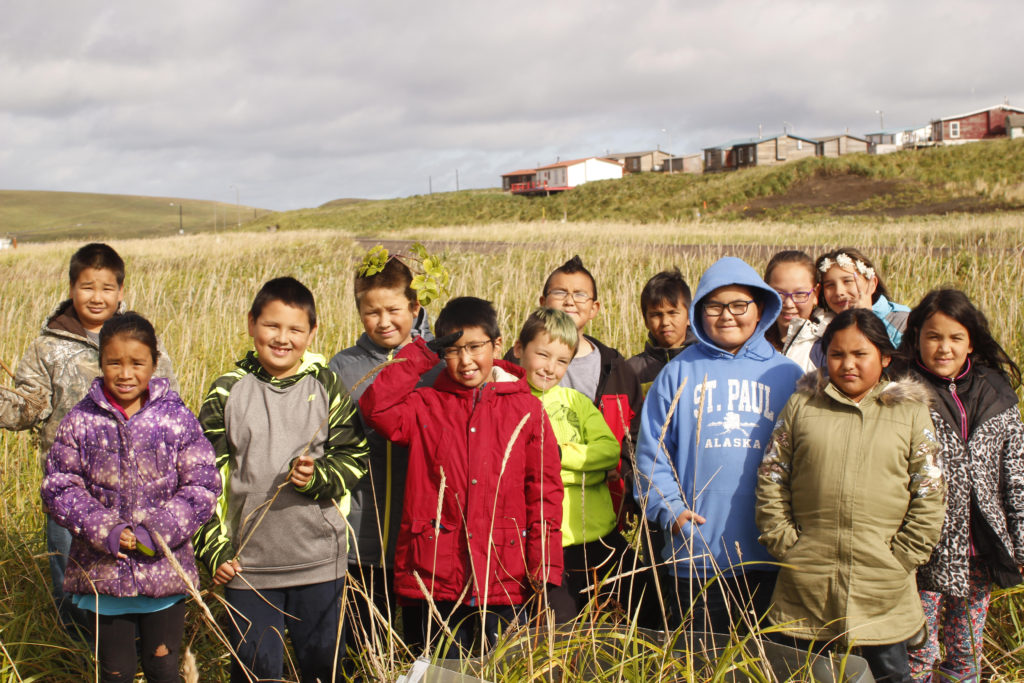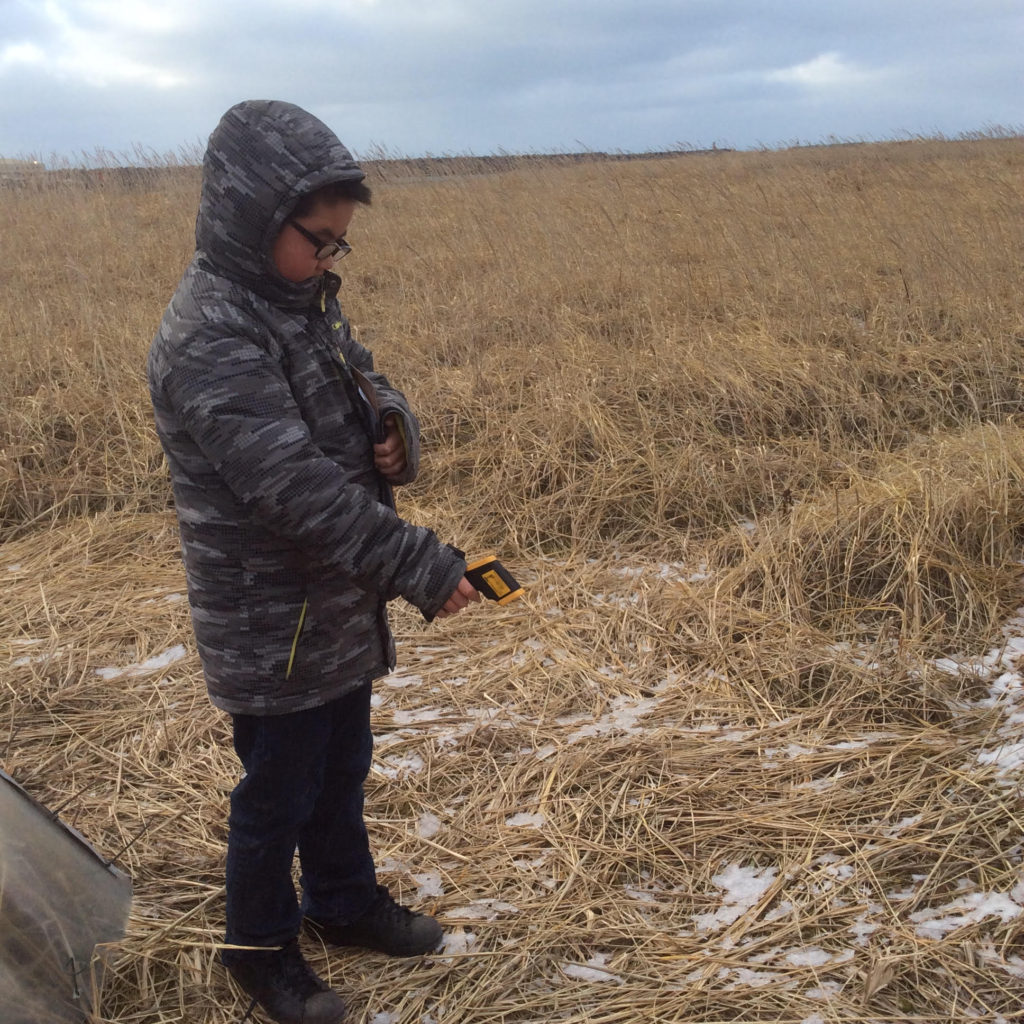 ---
Welcome to the APPLES Photo Journal
July 2016 Workshop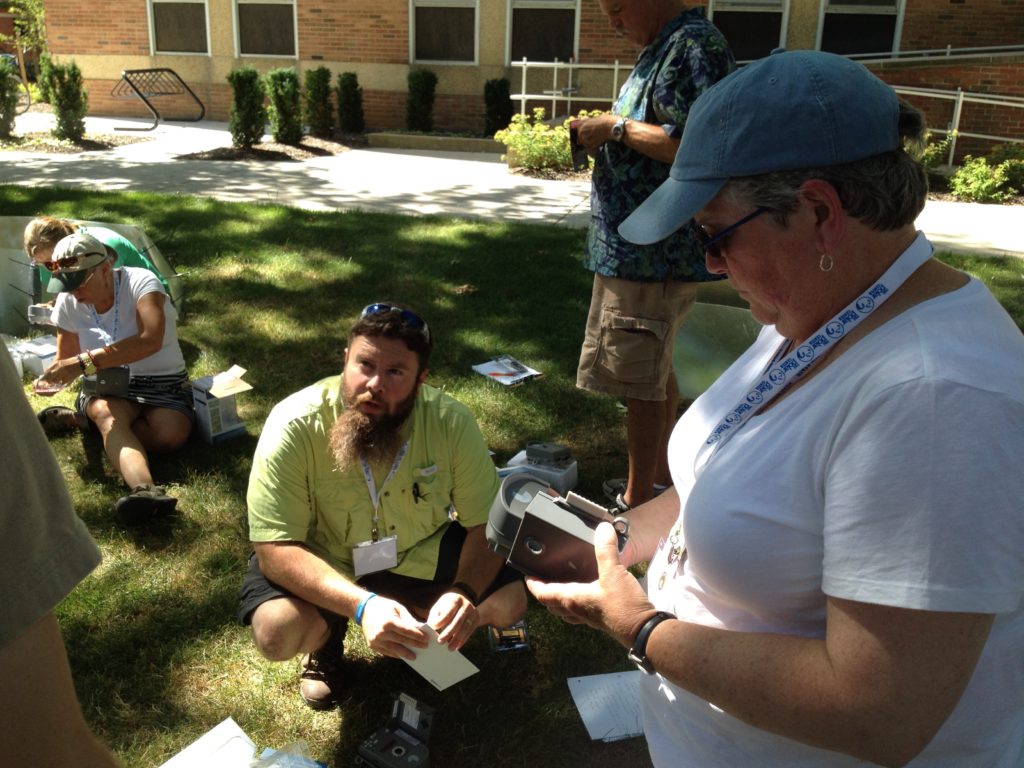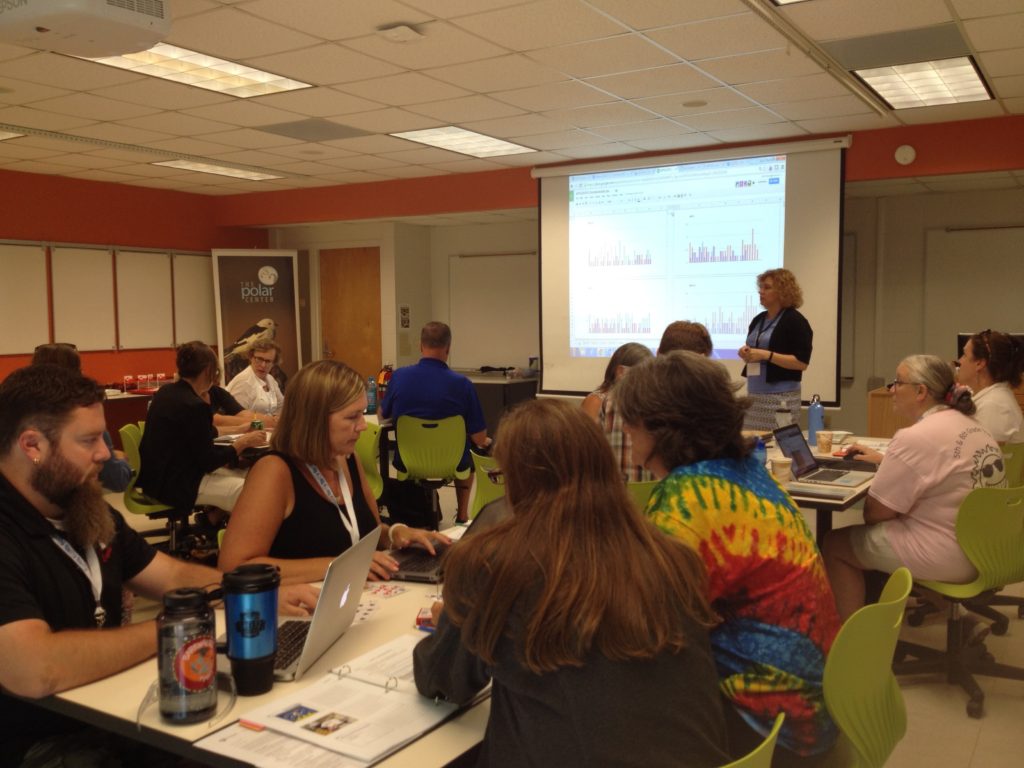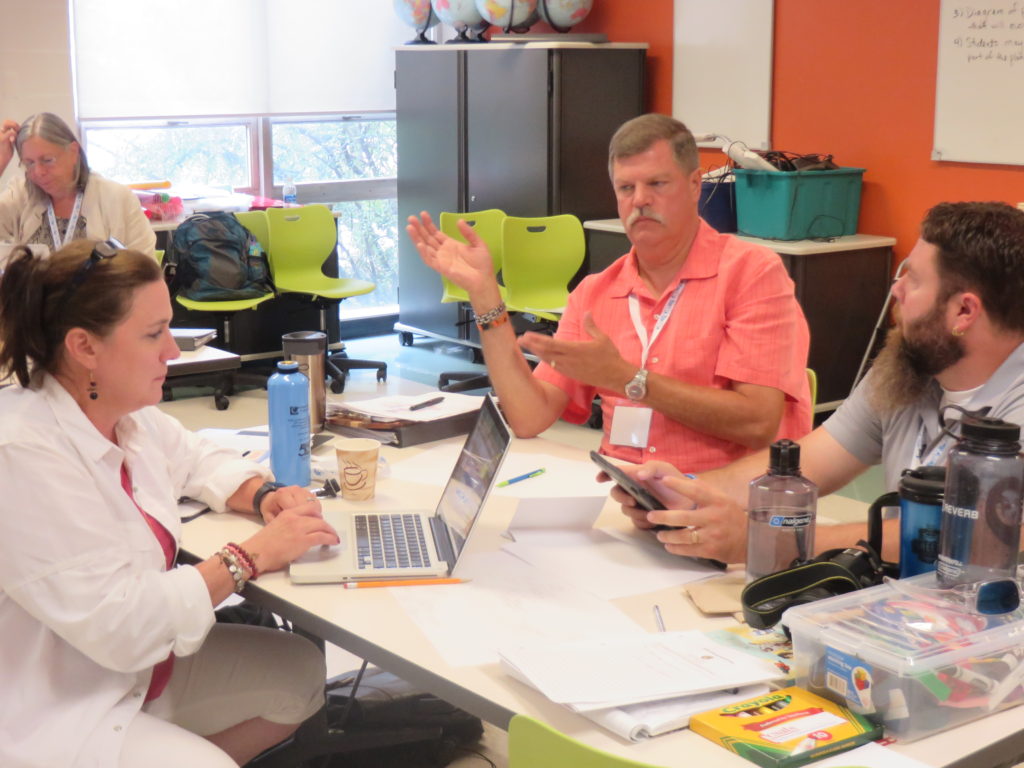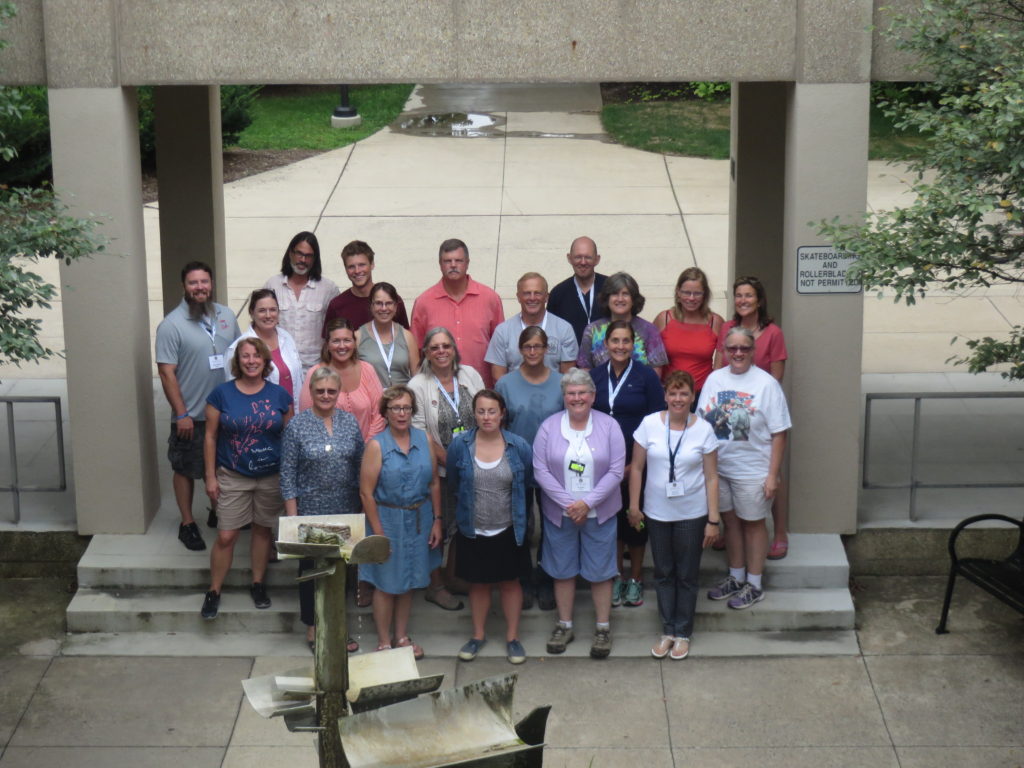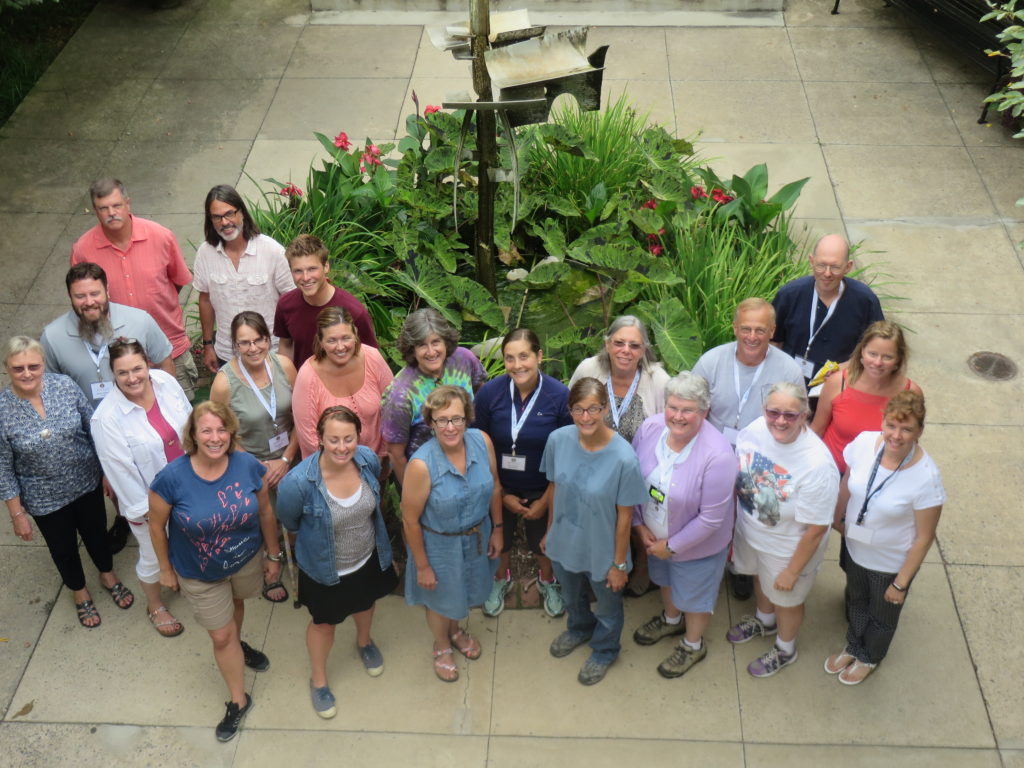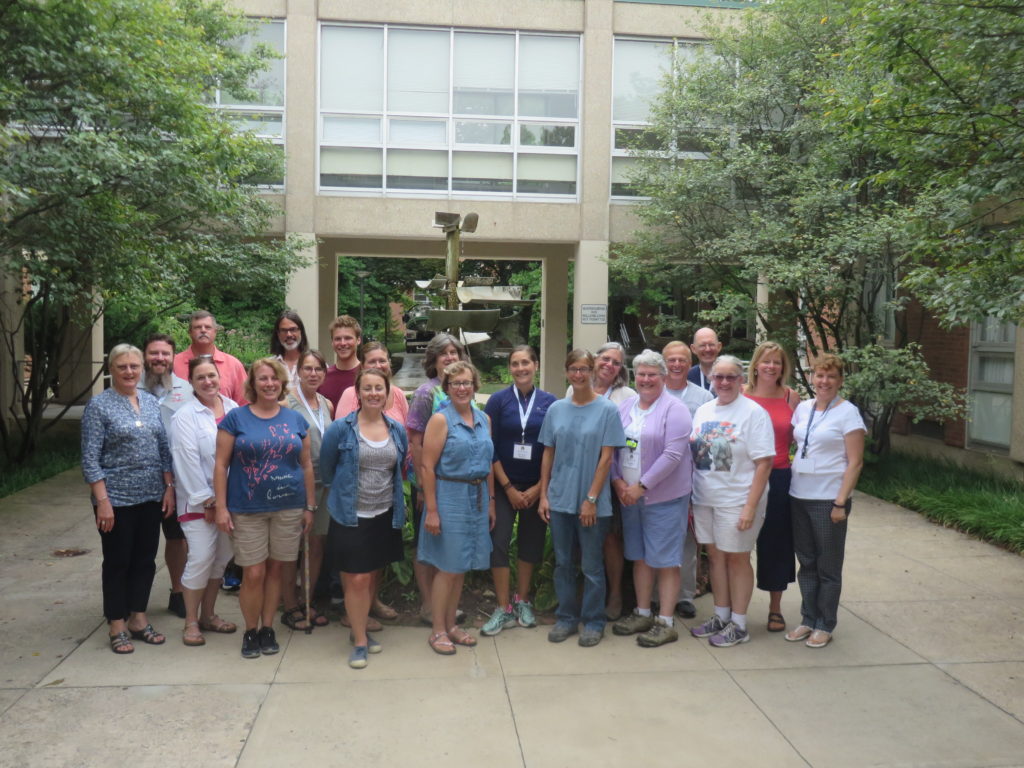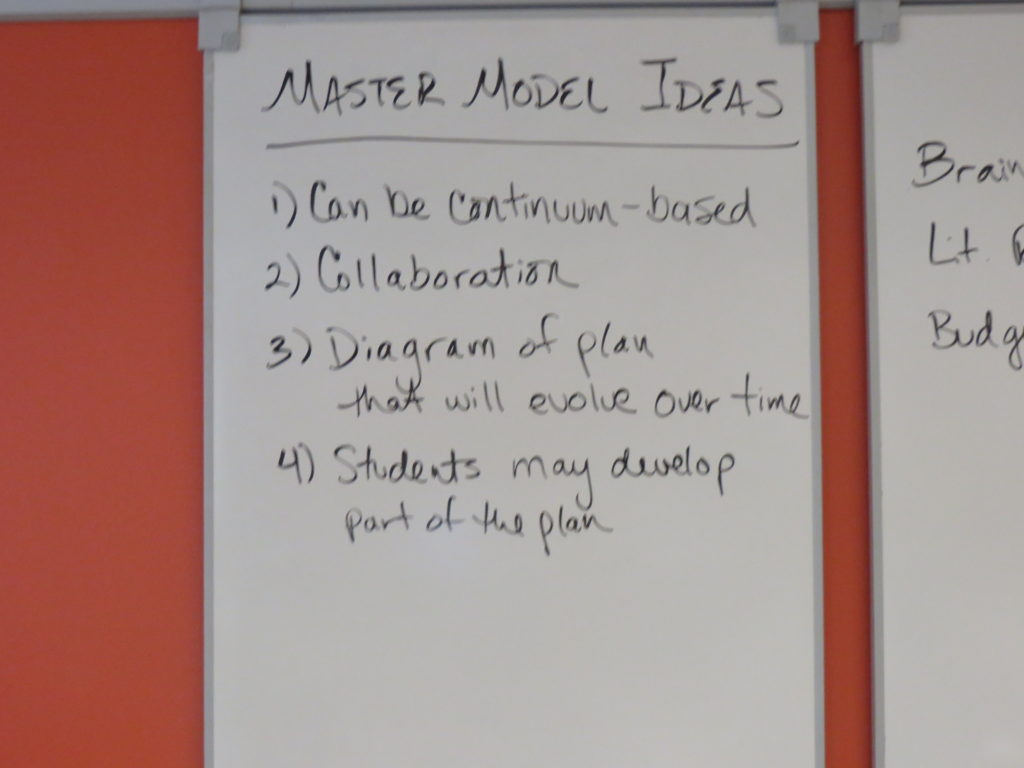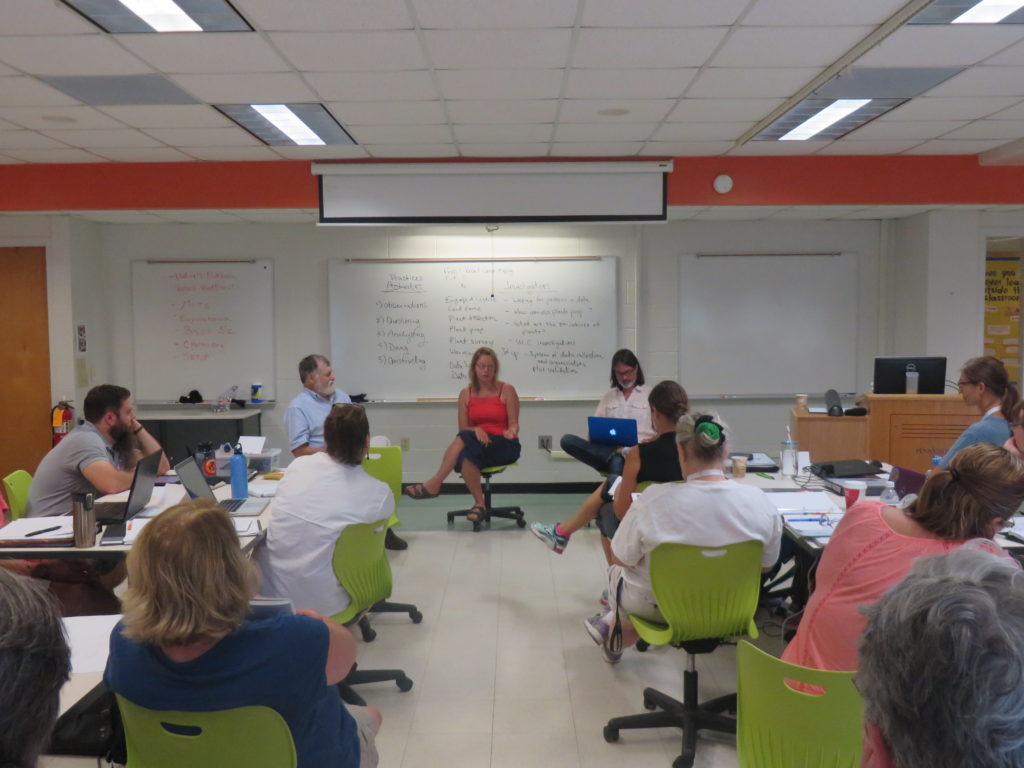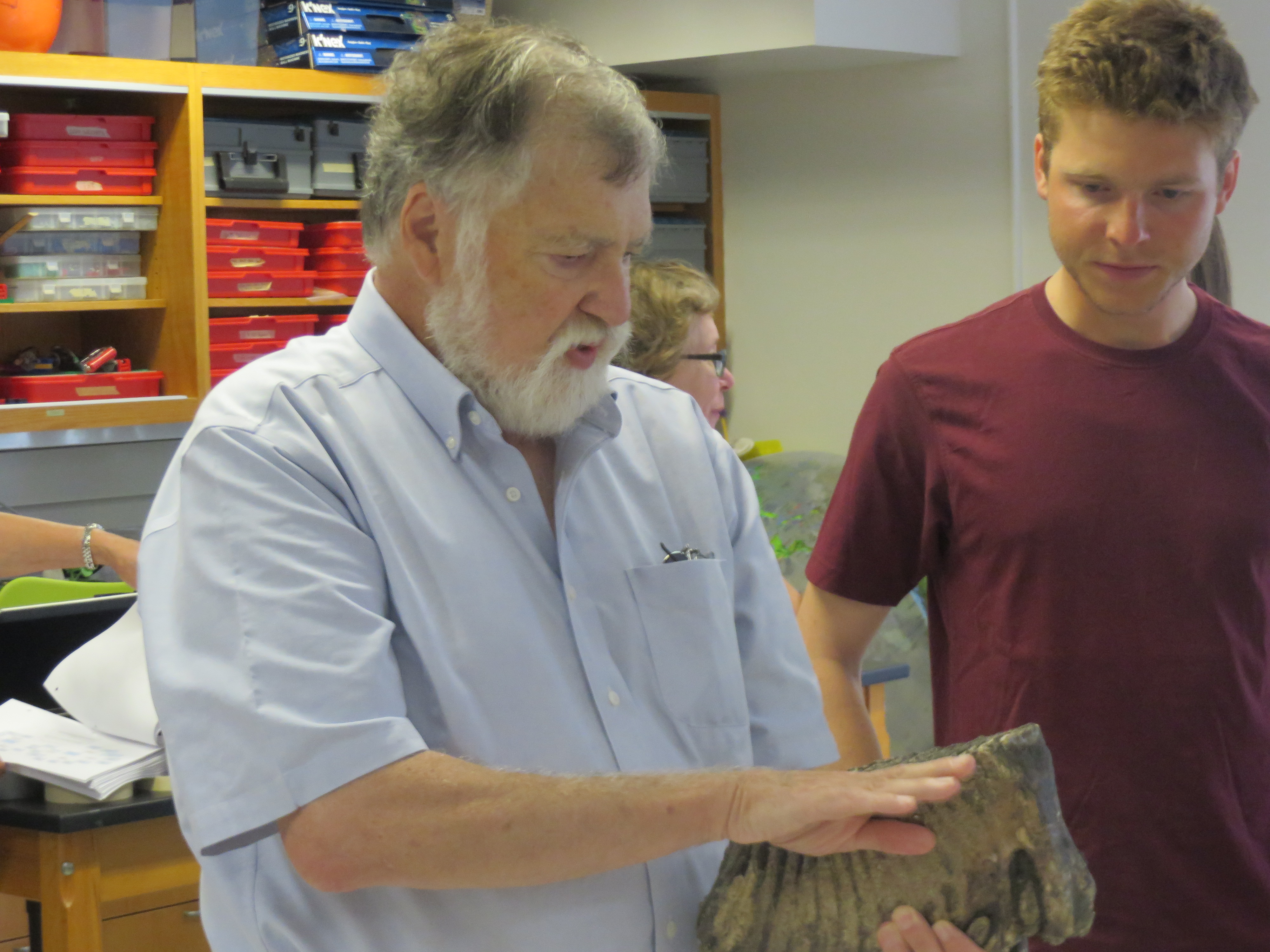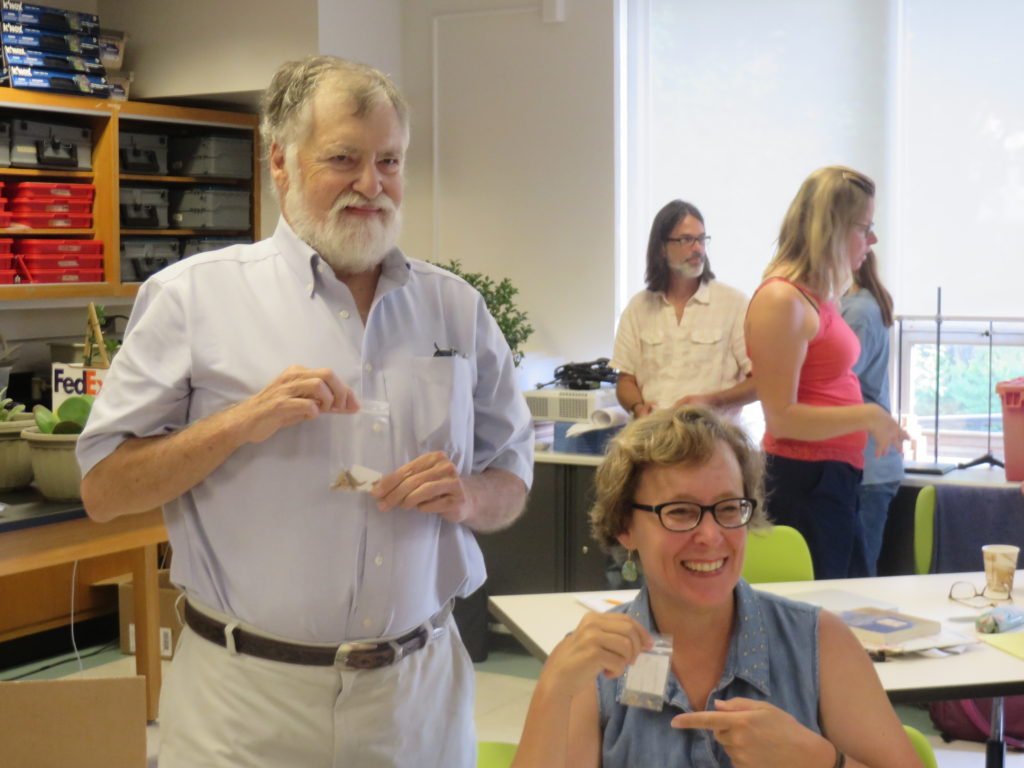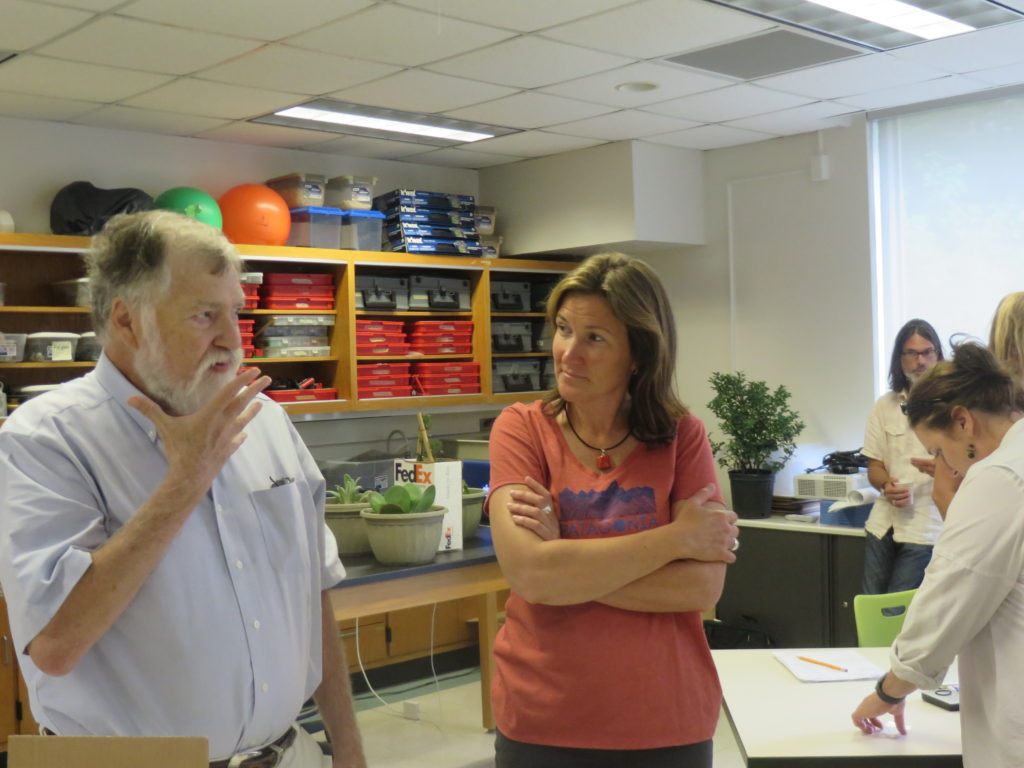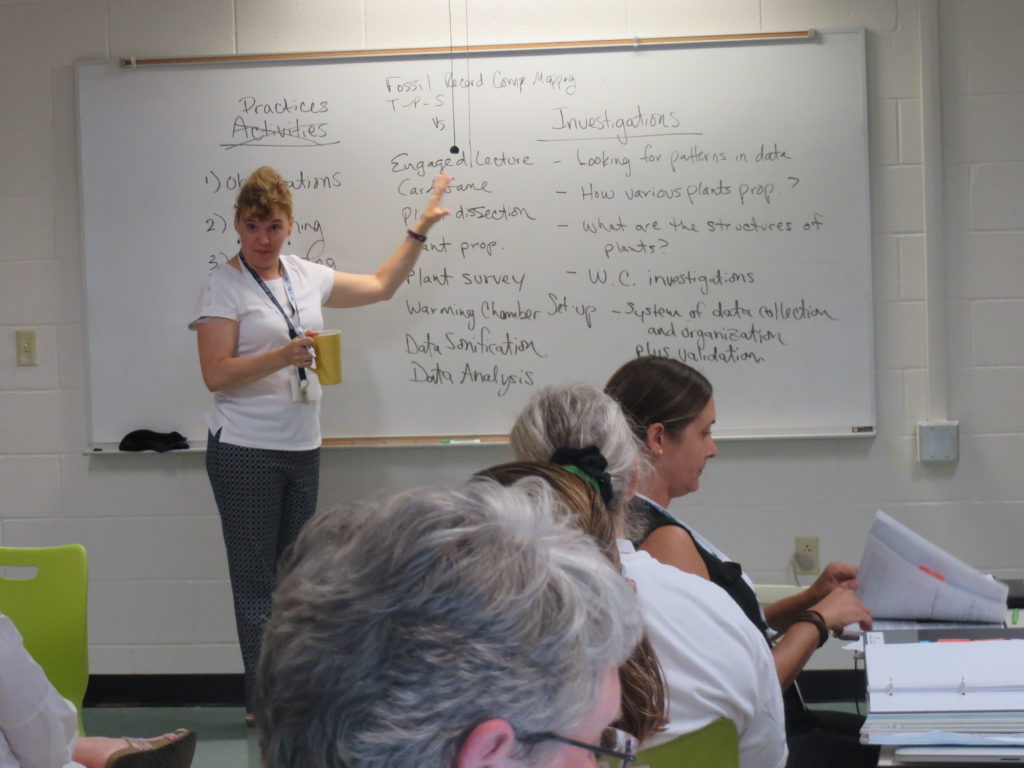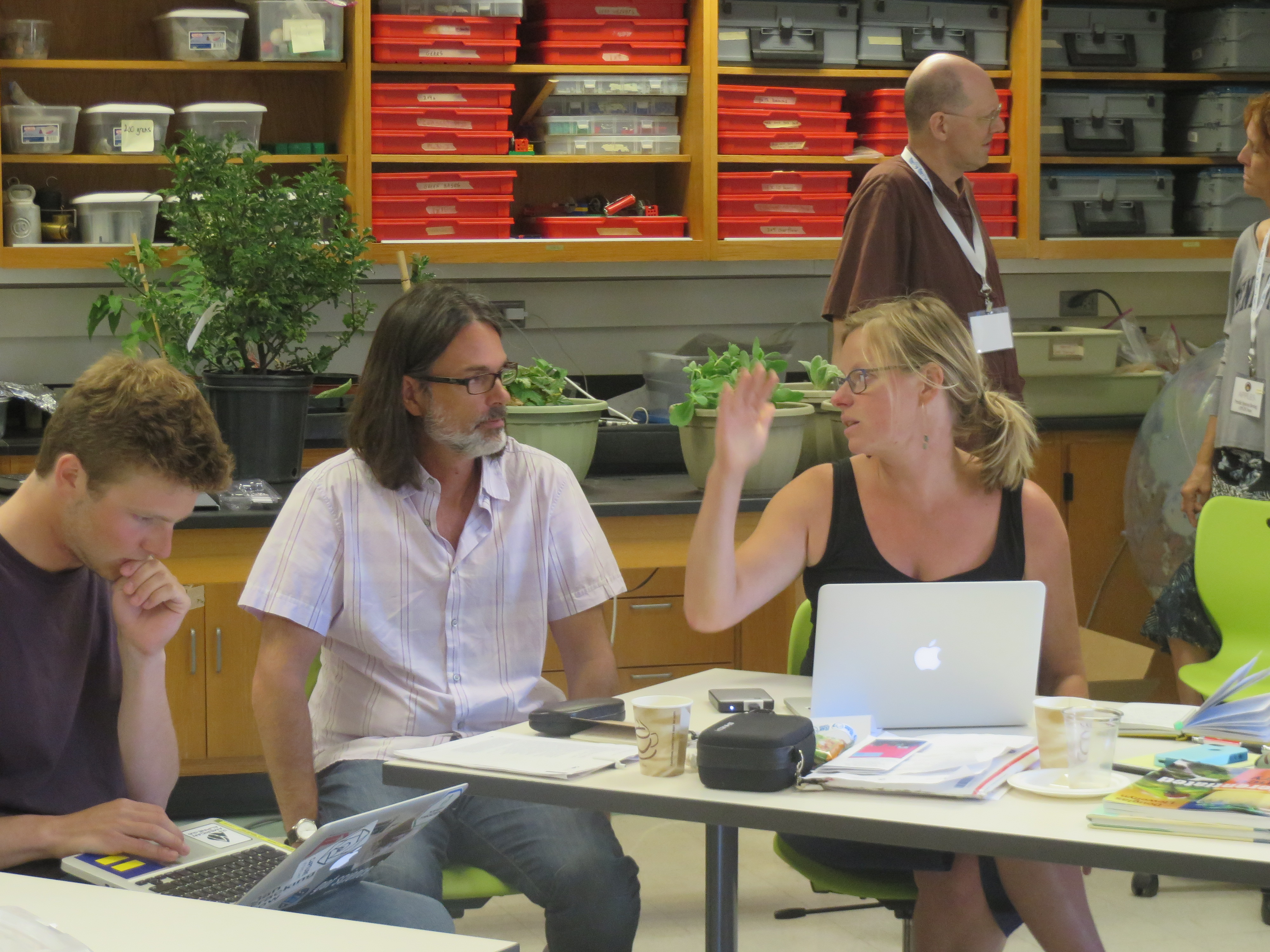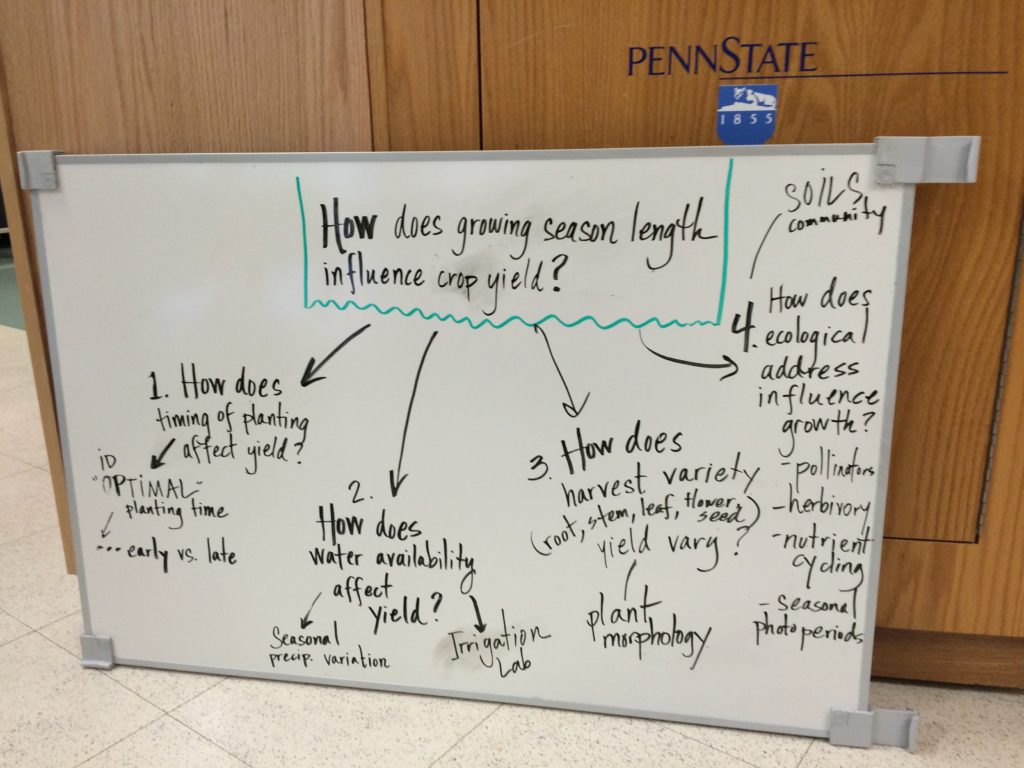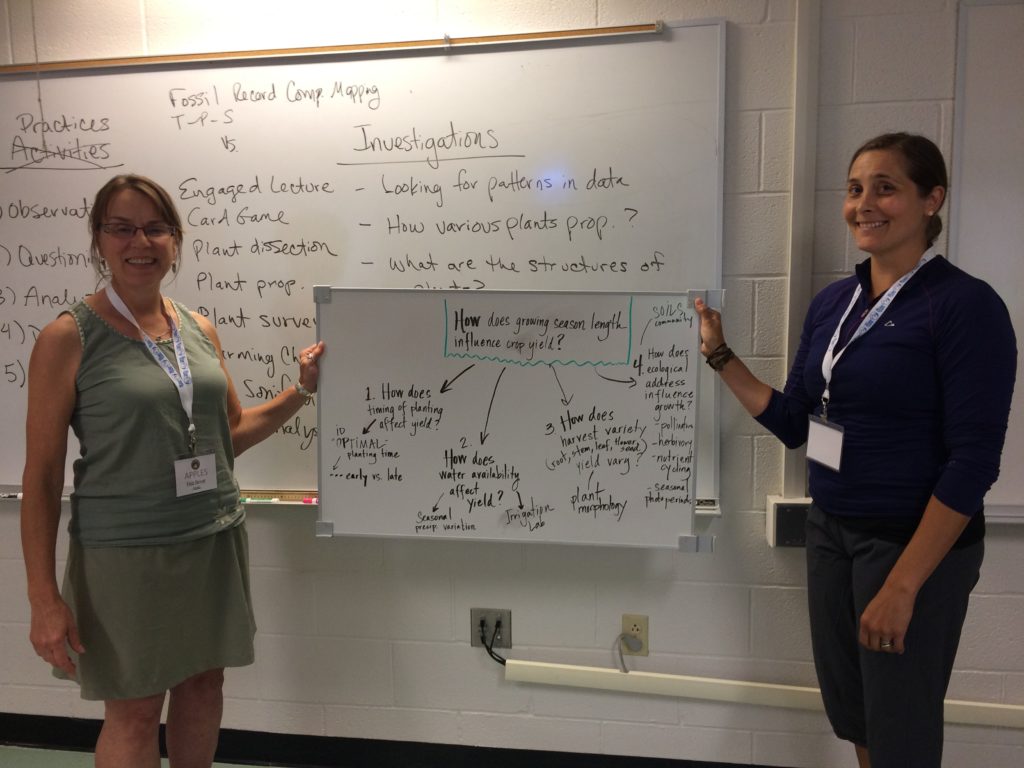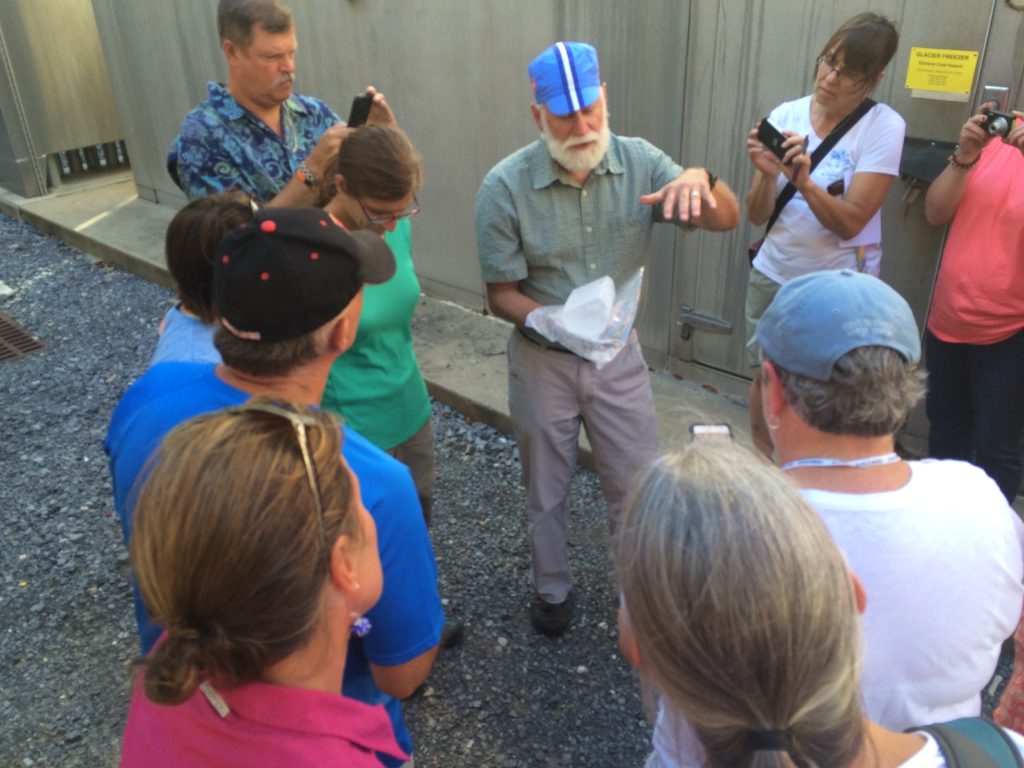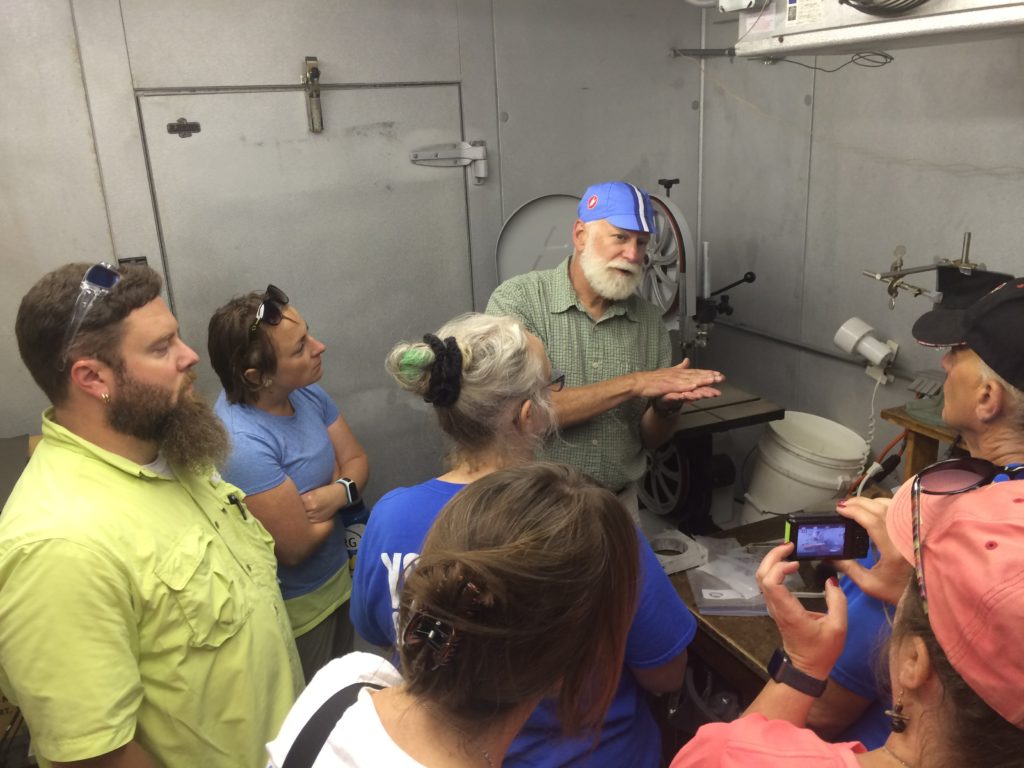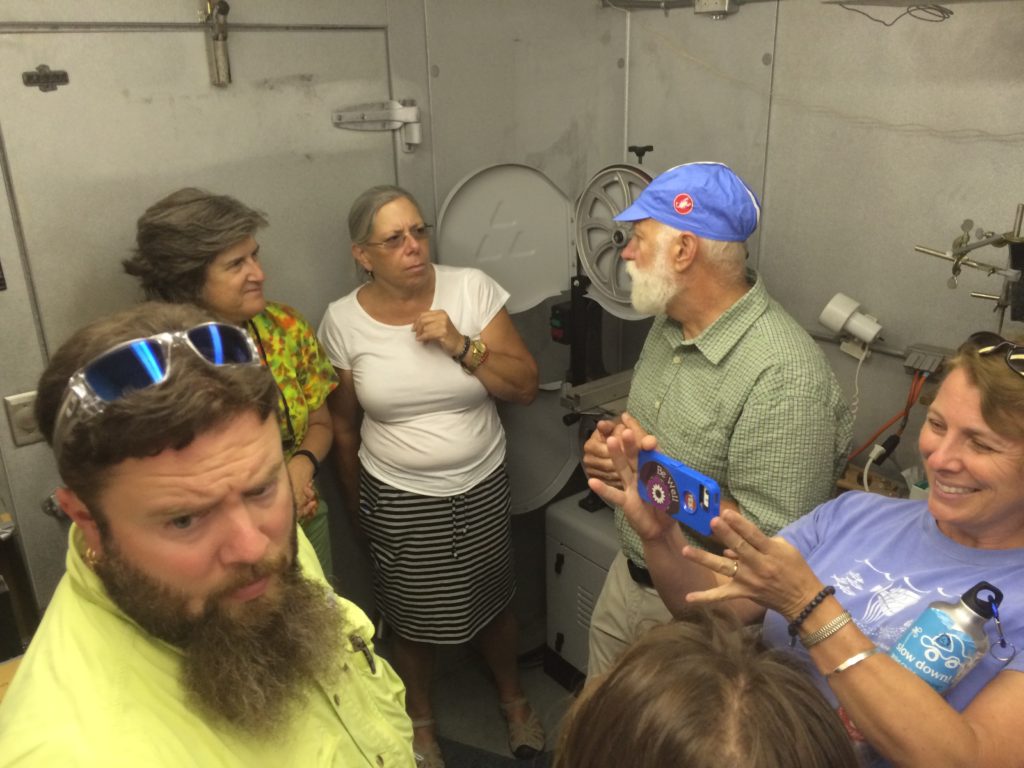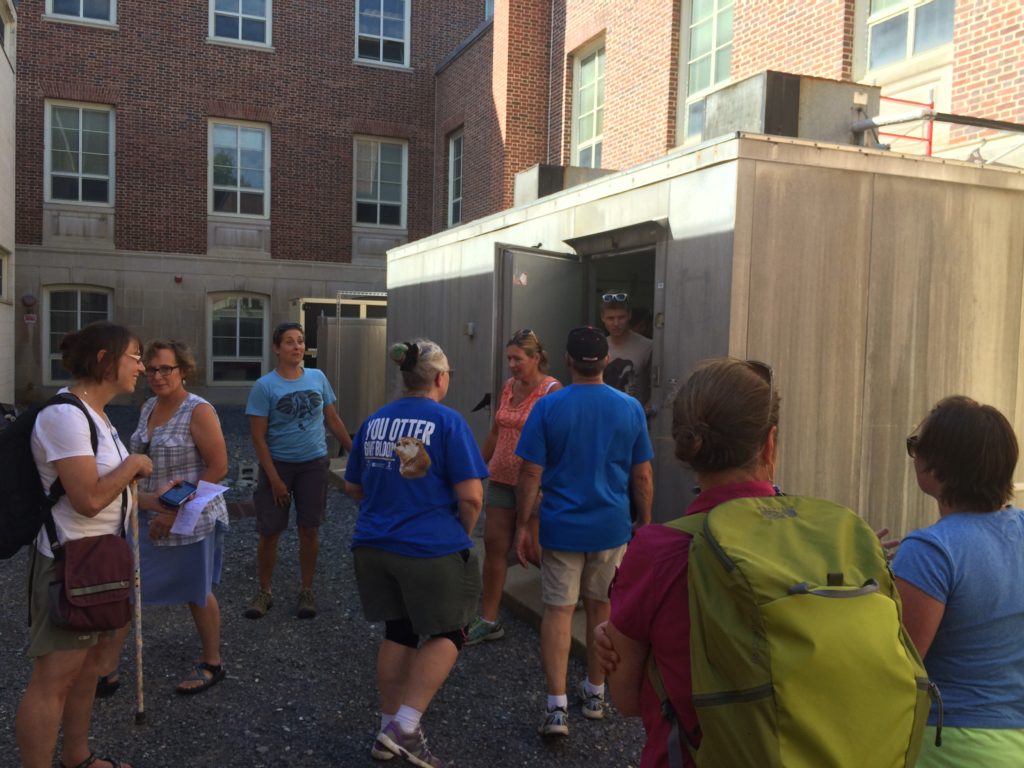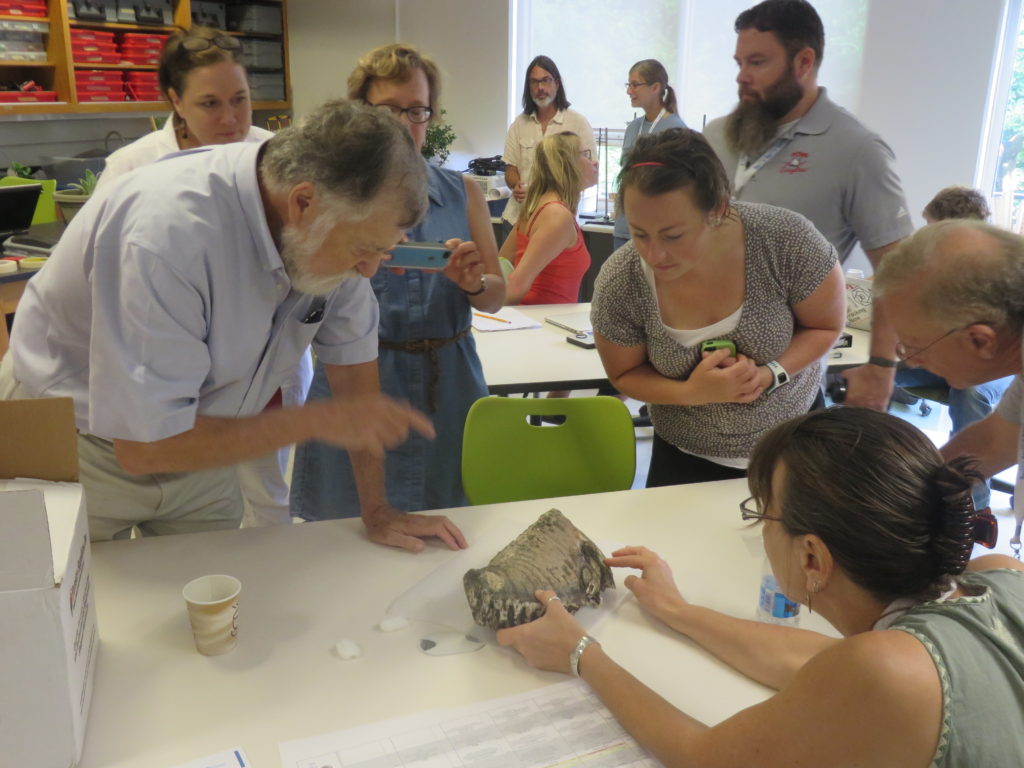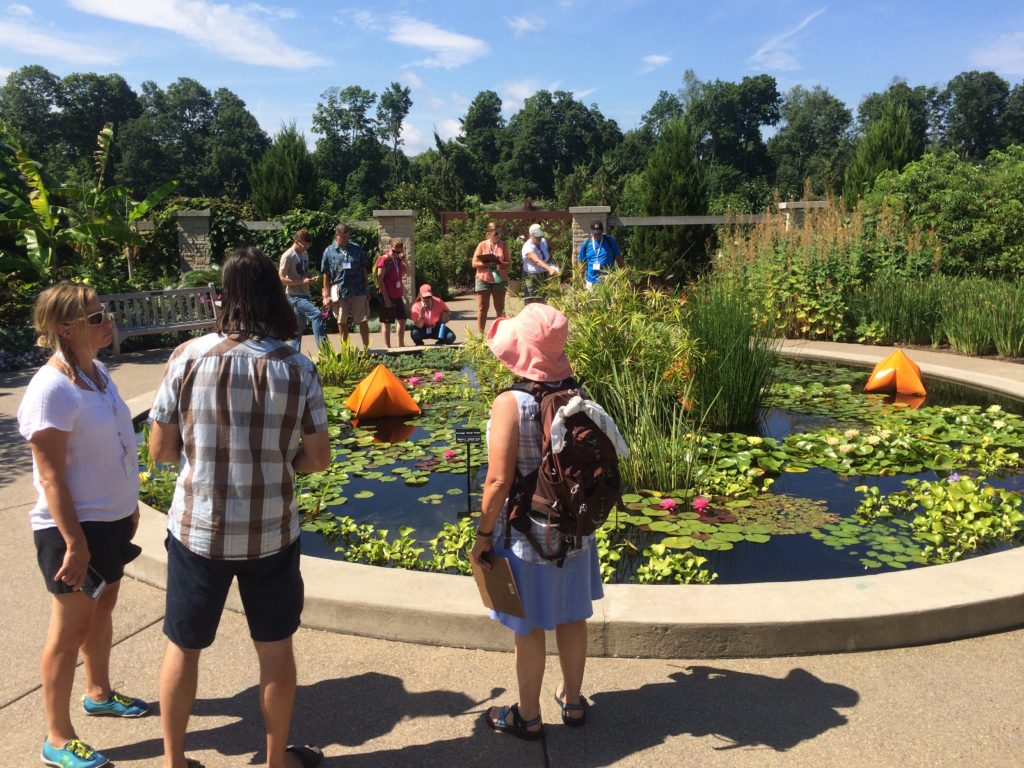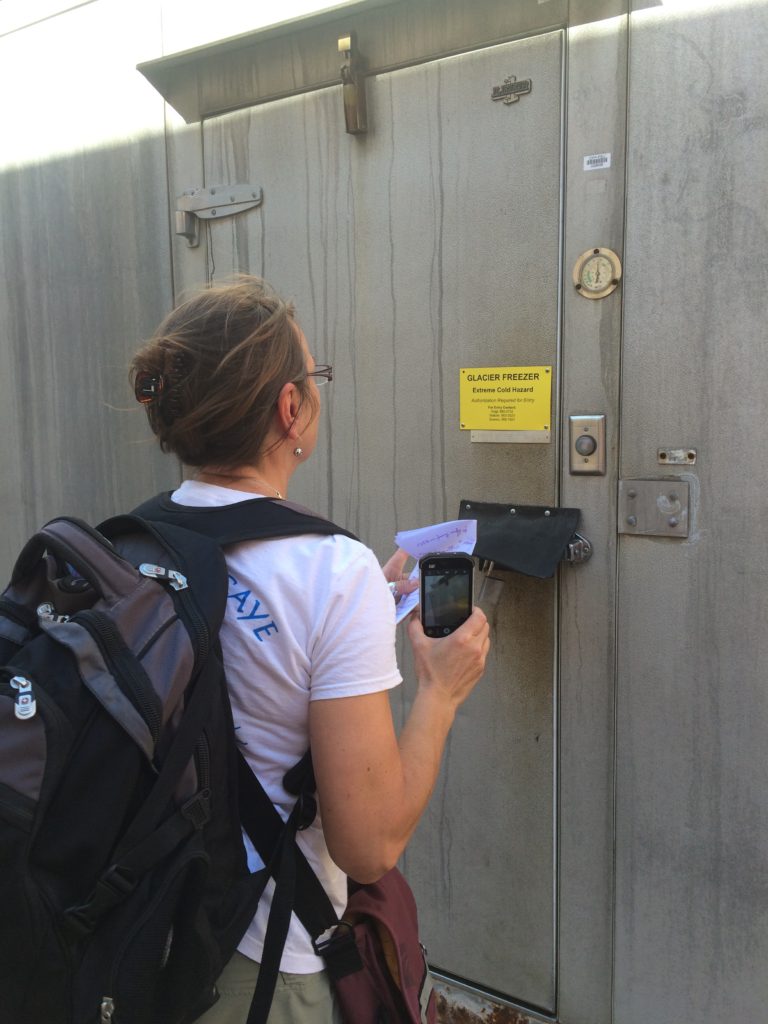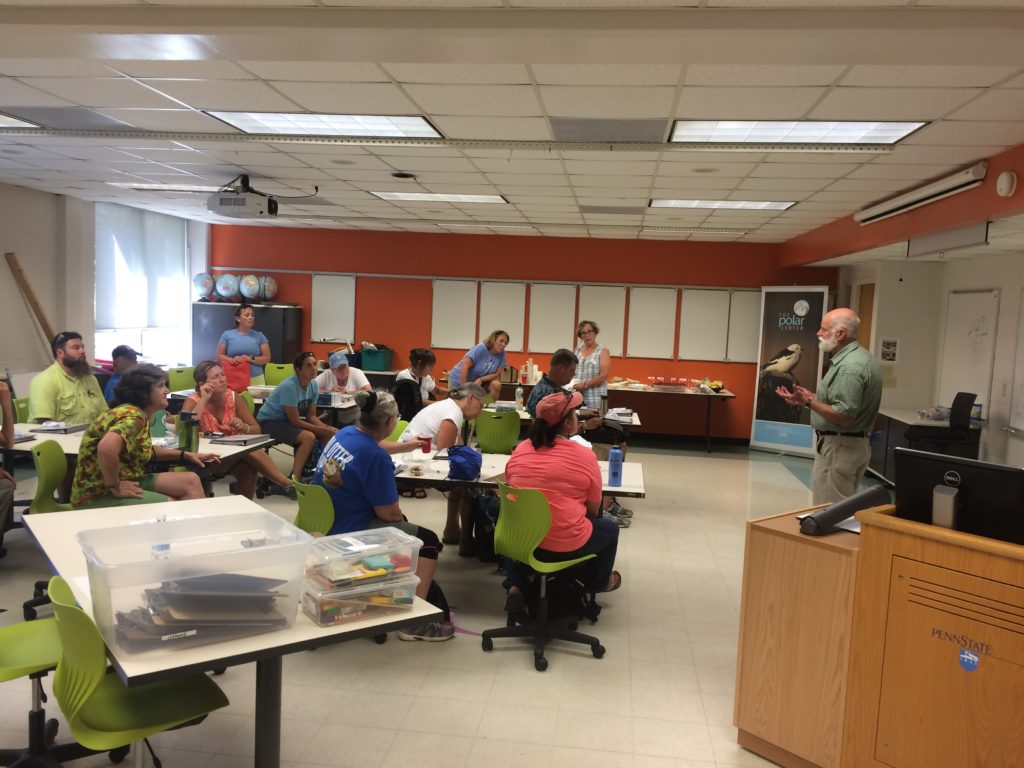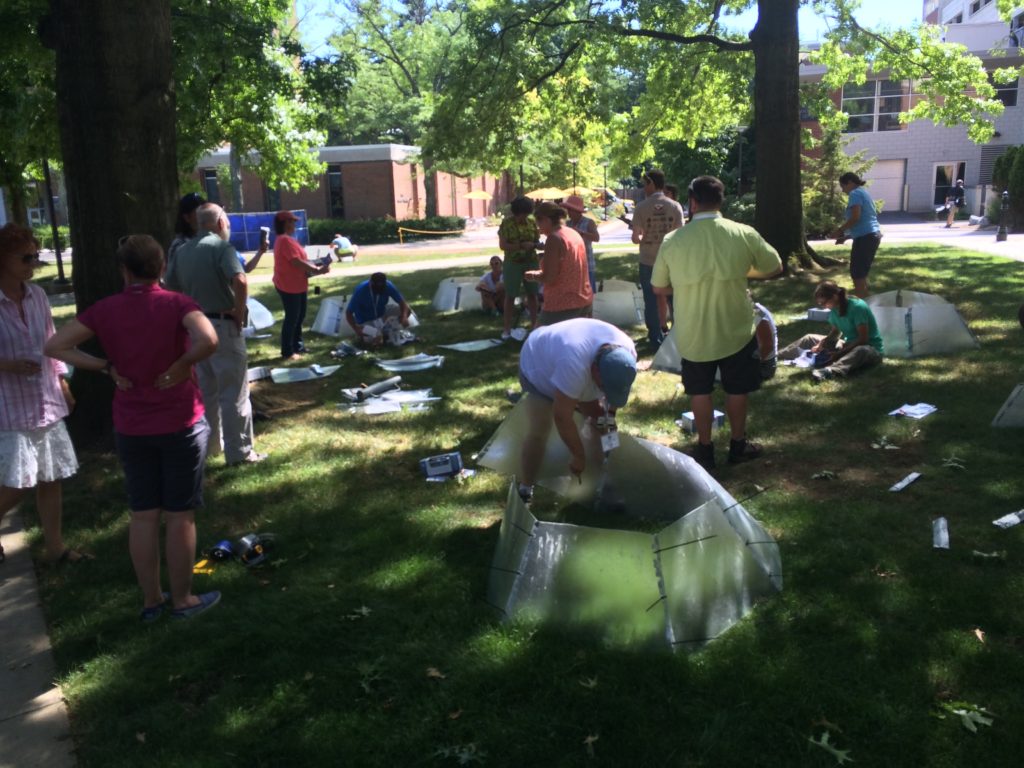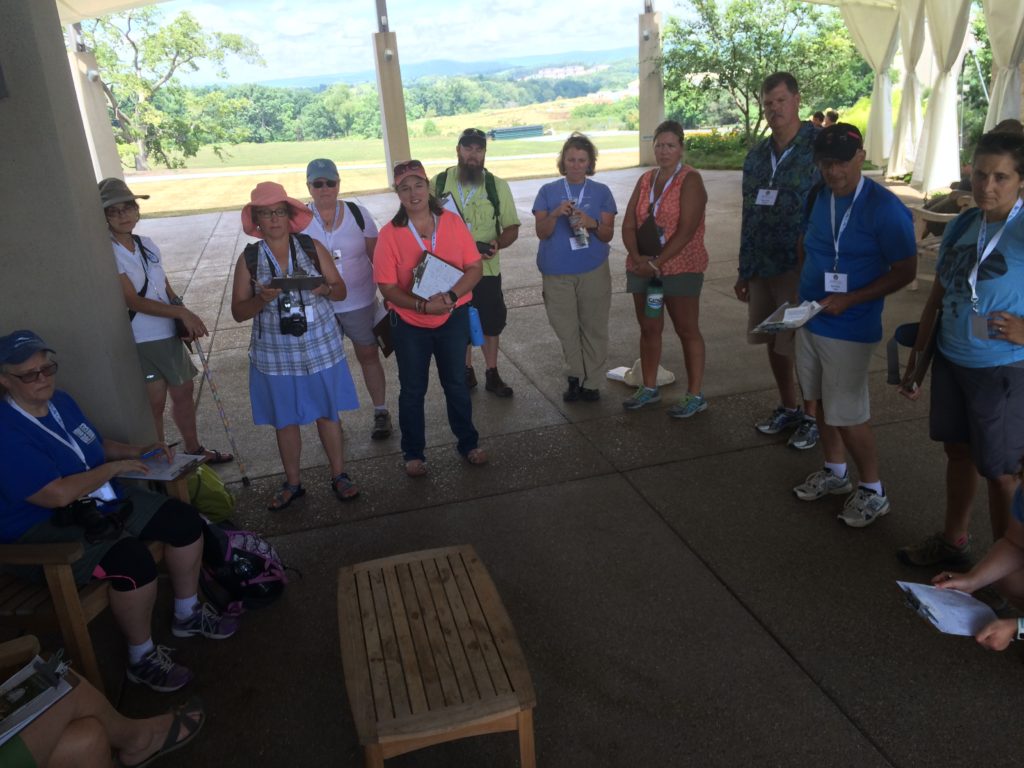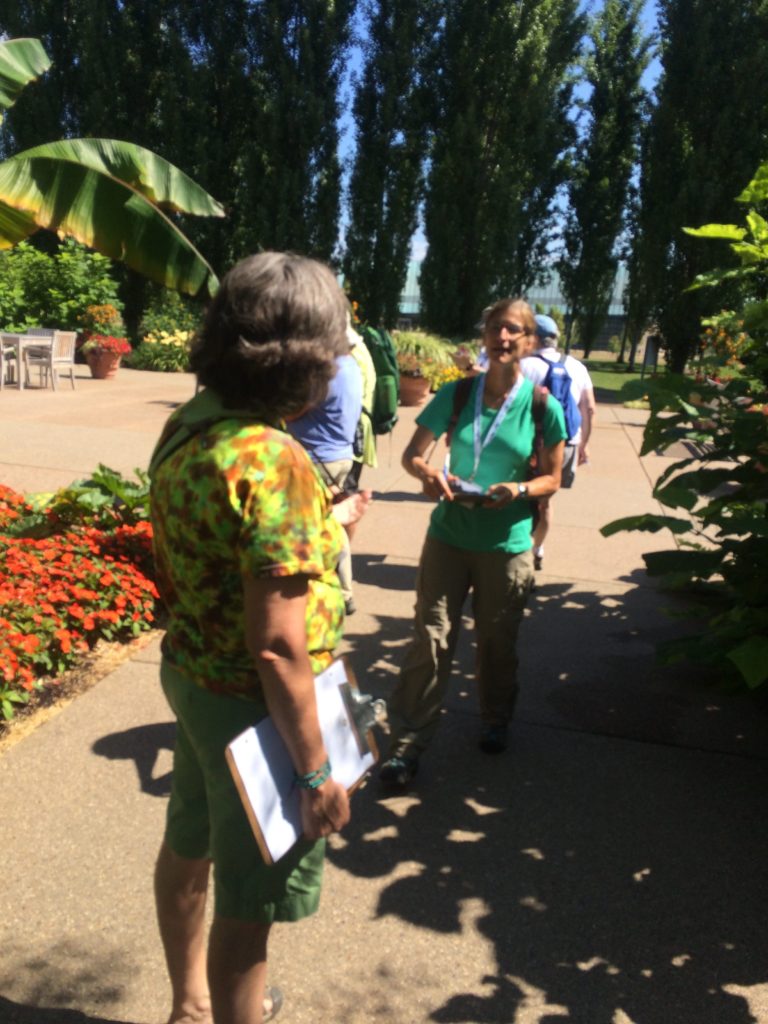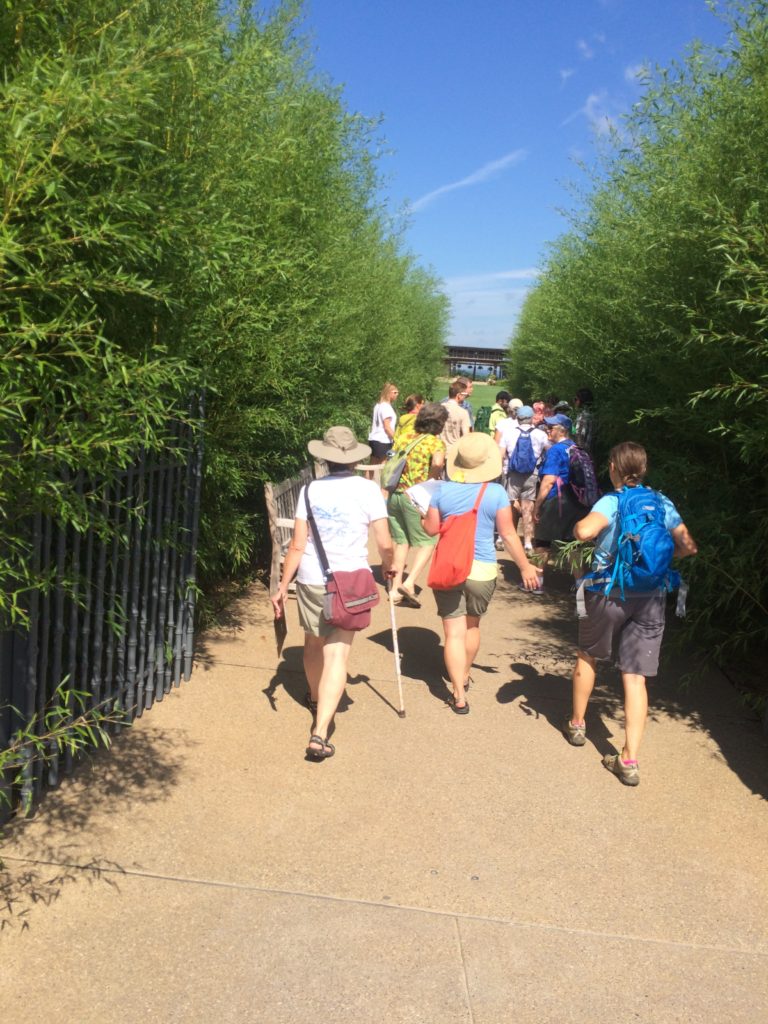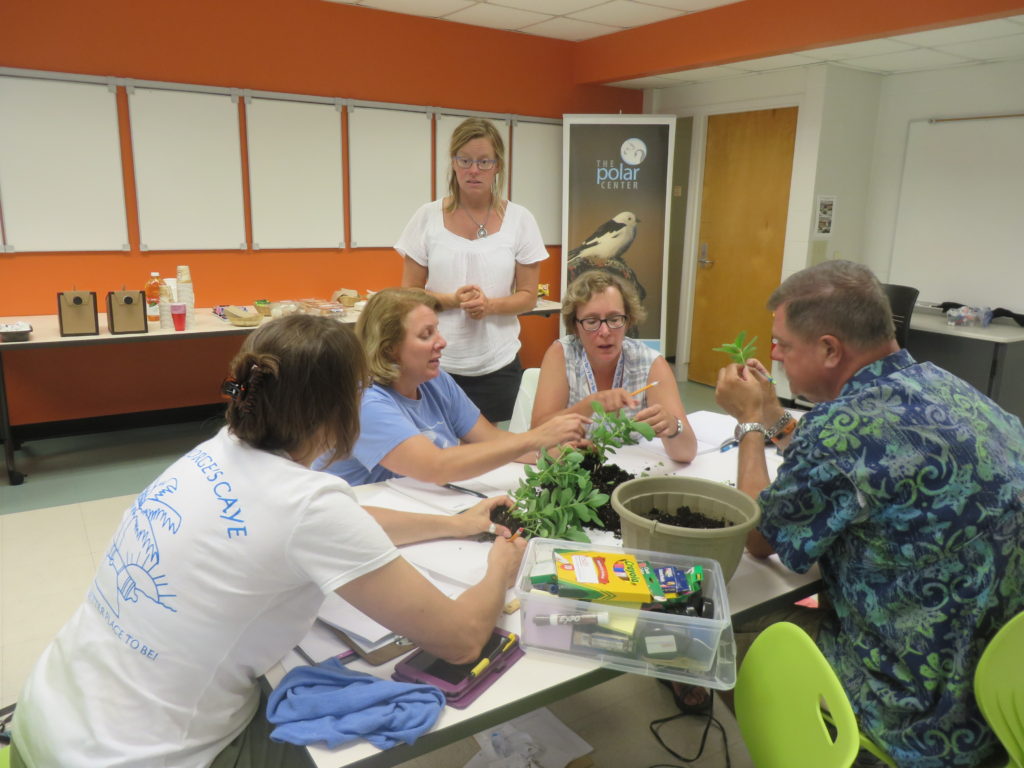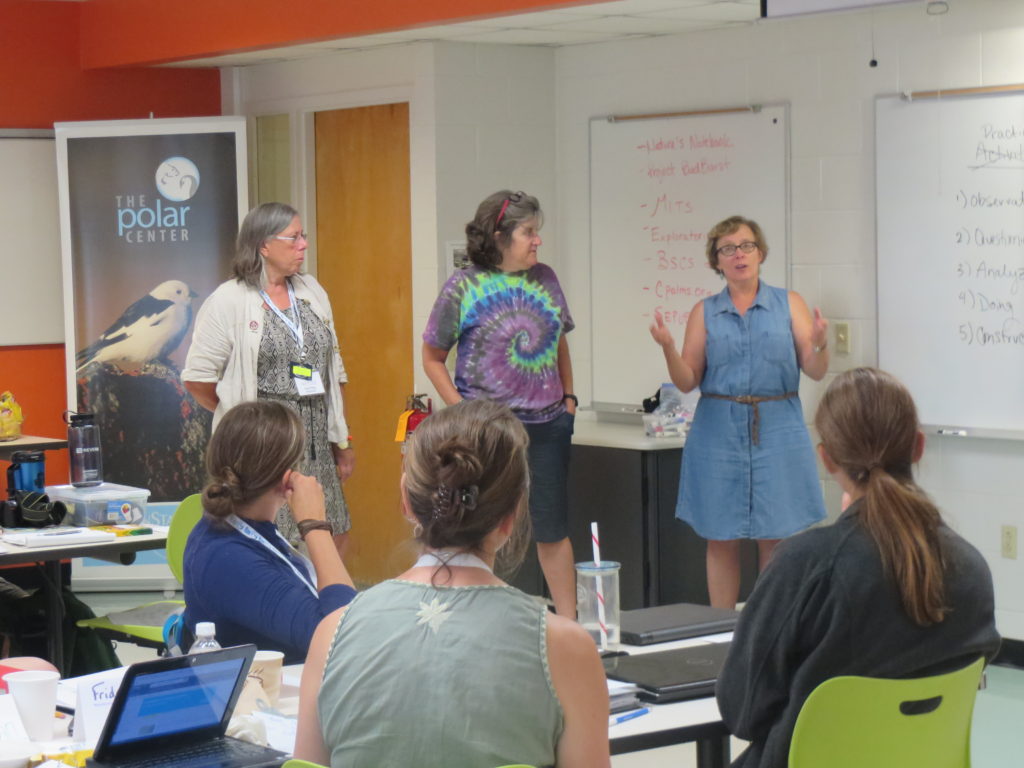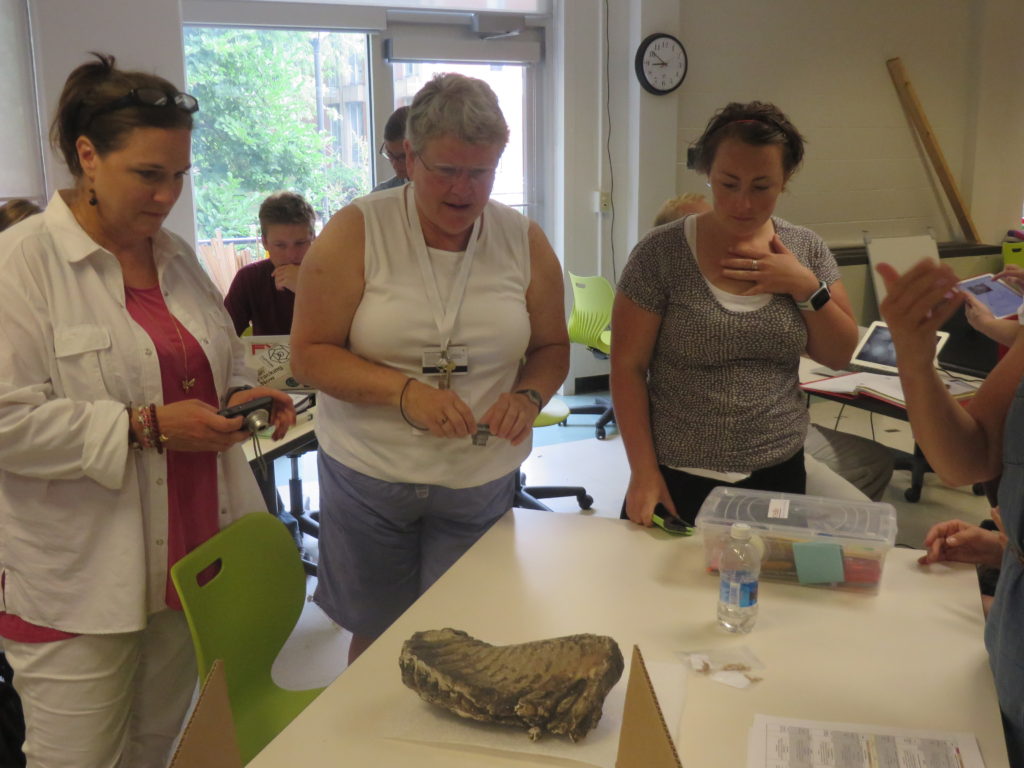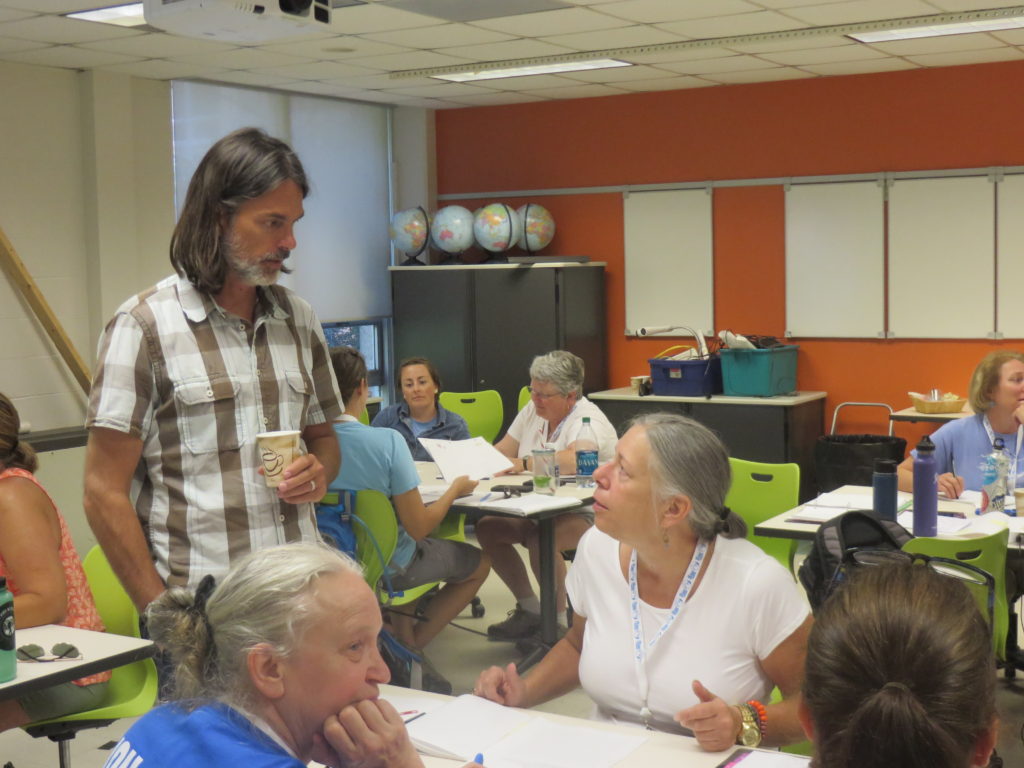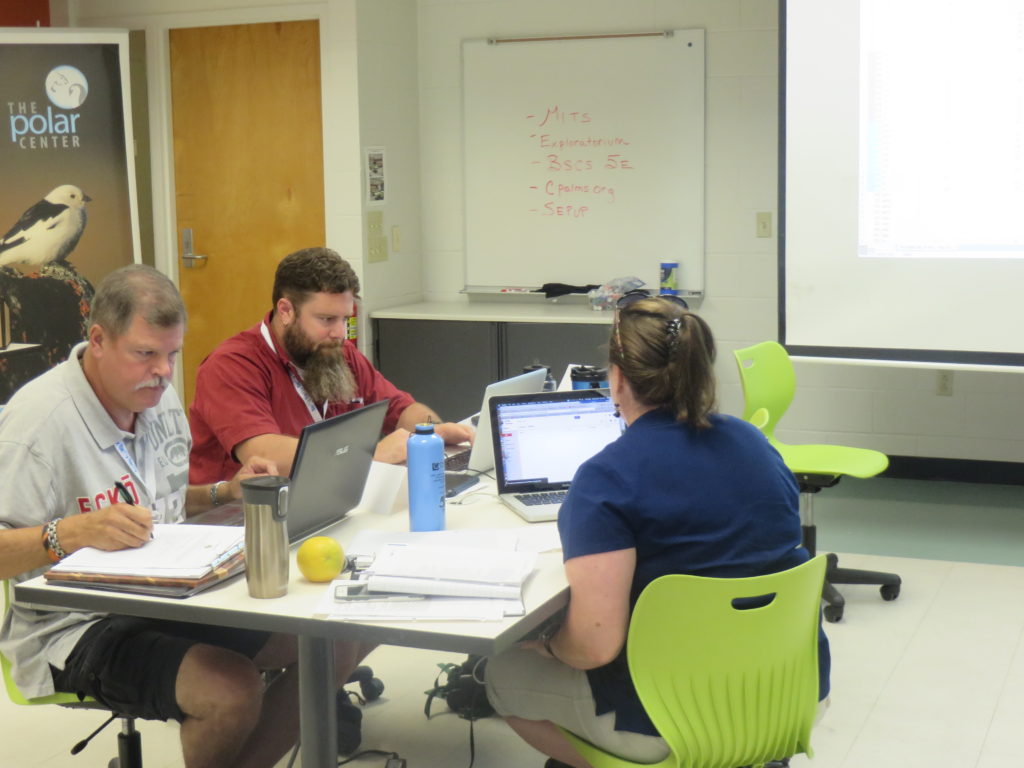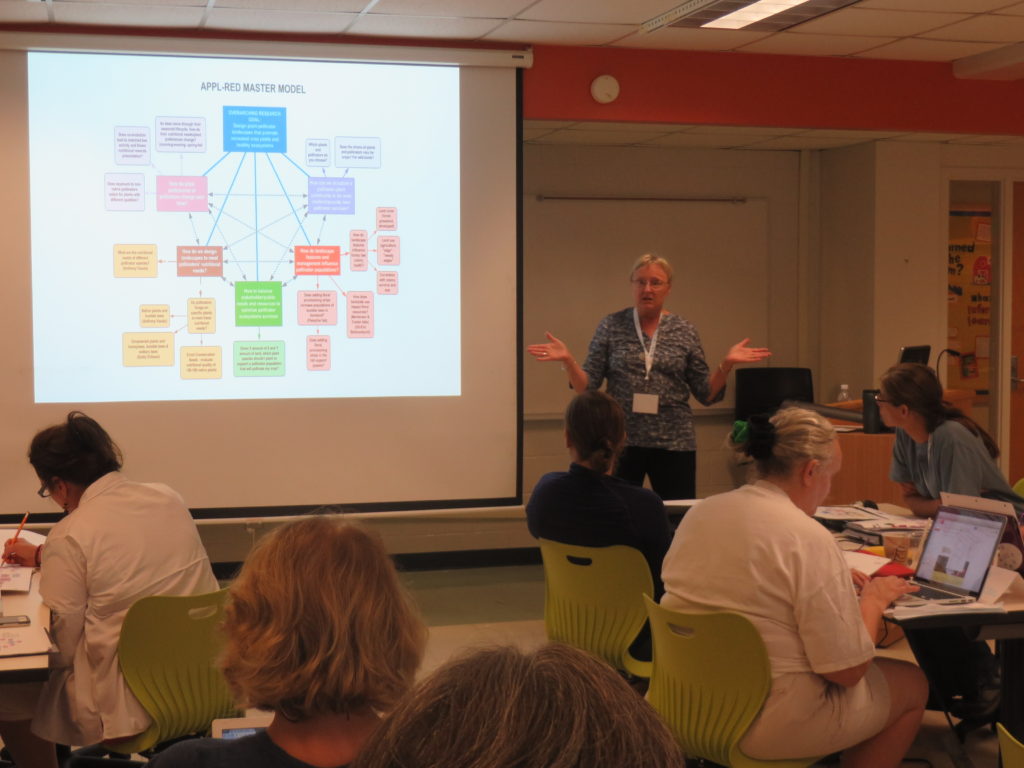 ---
Greenland Research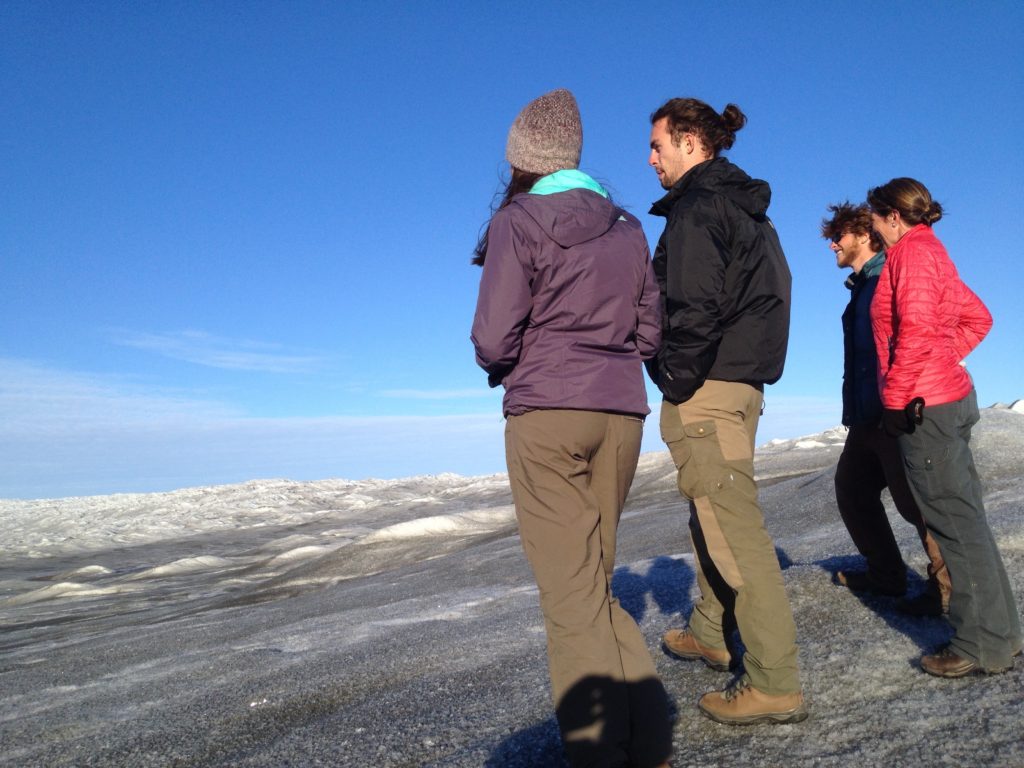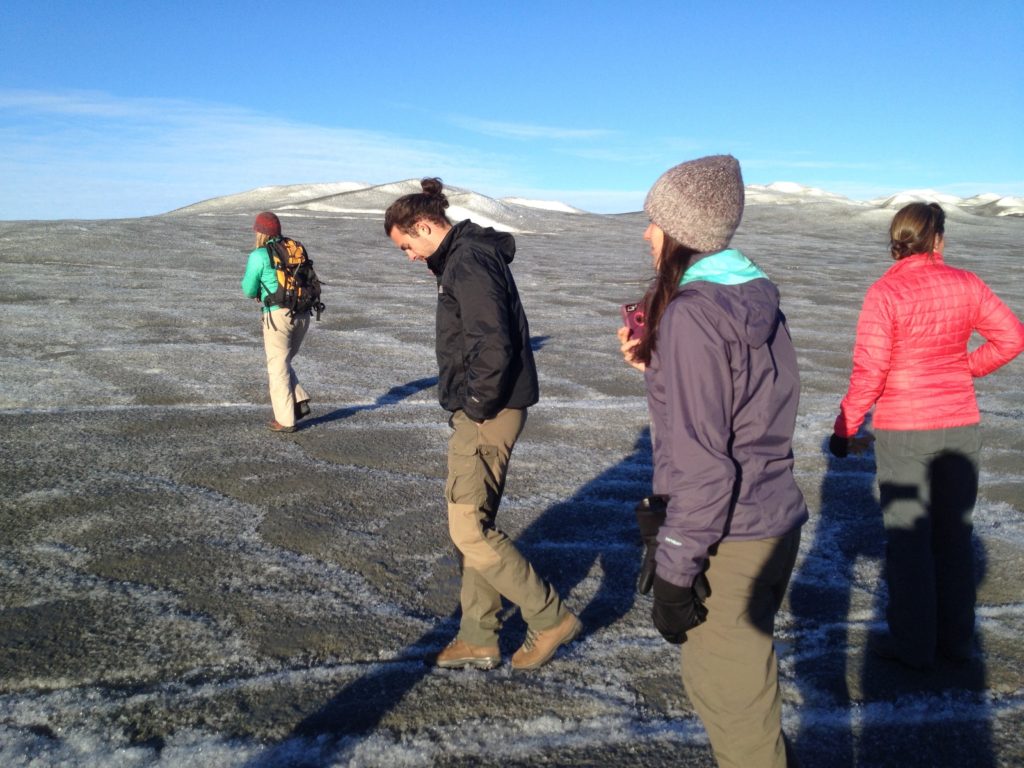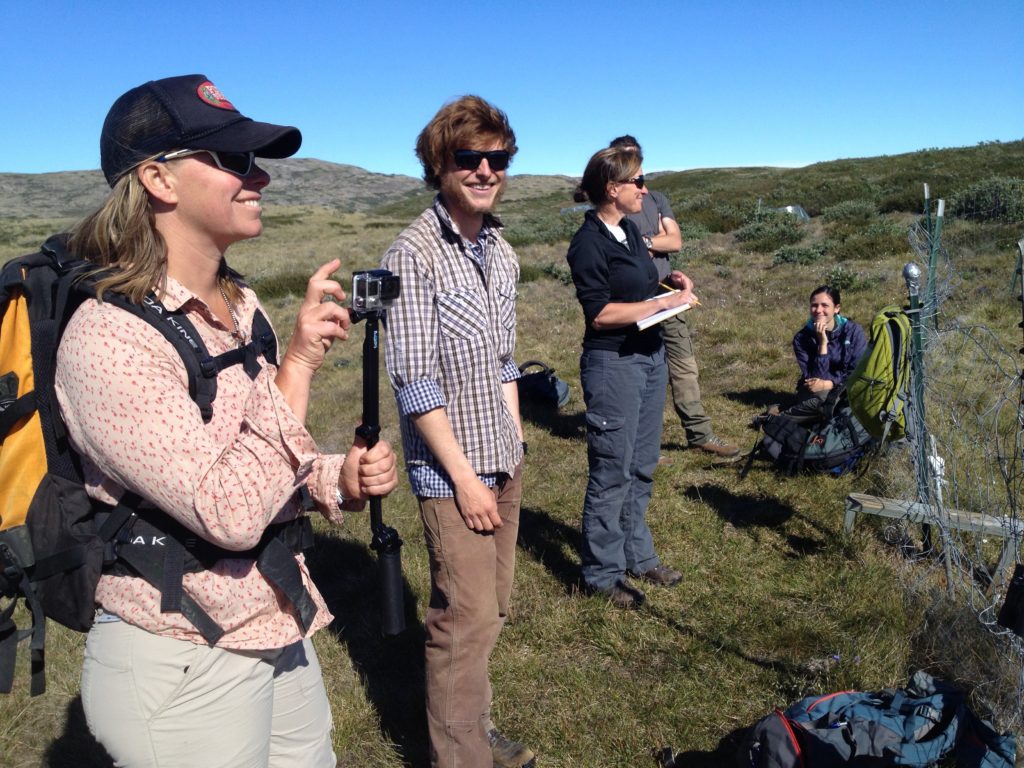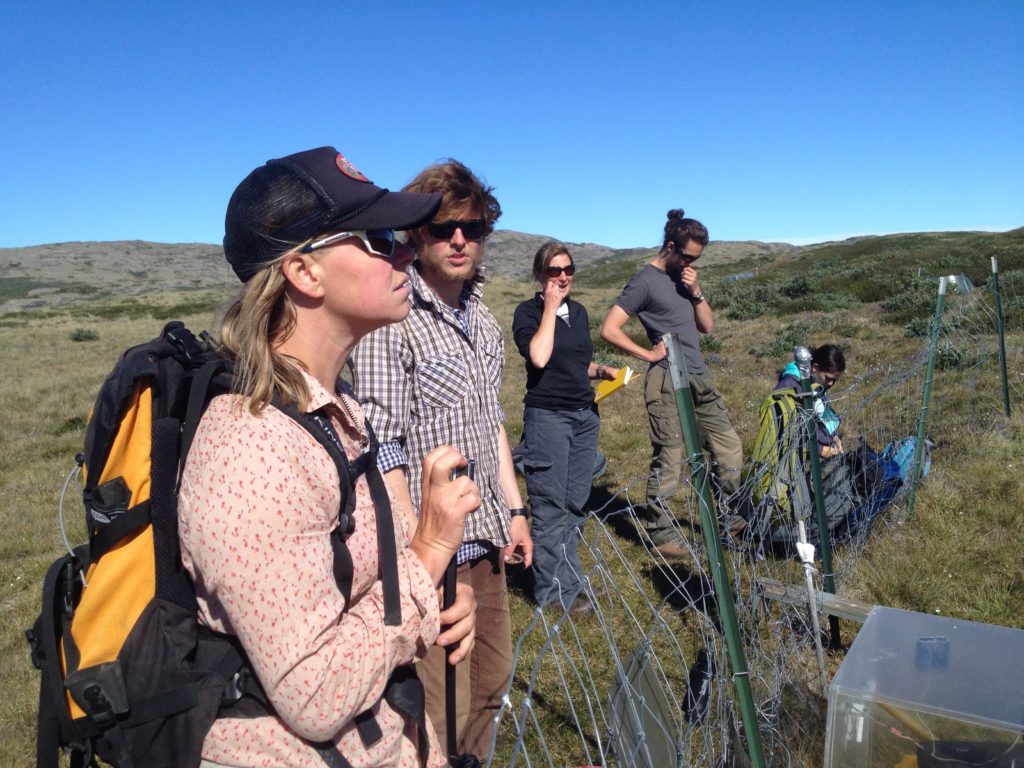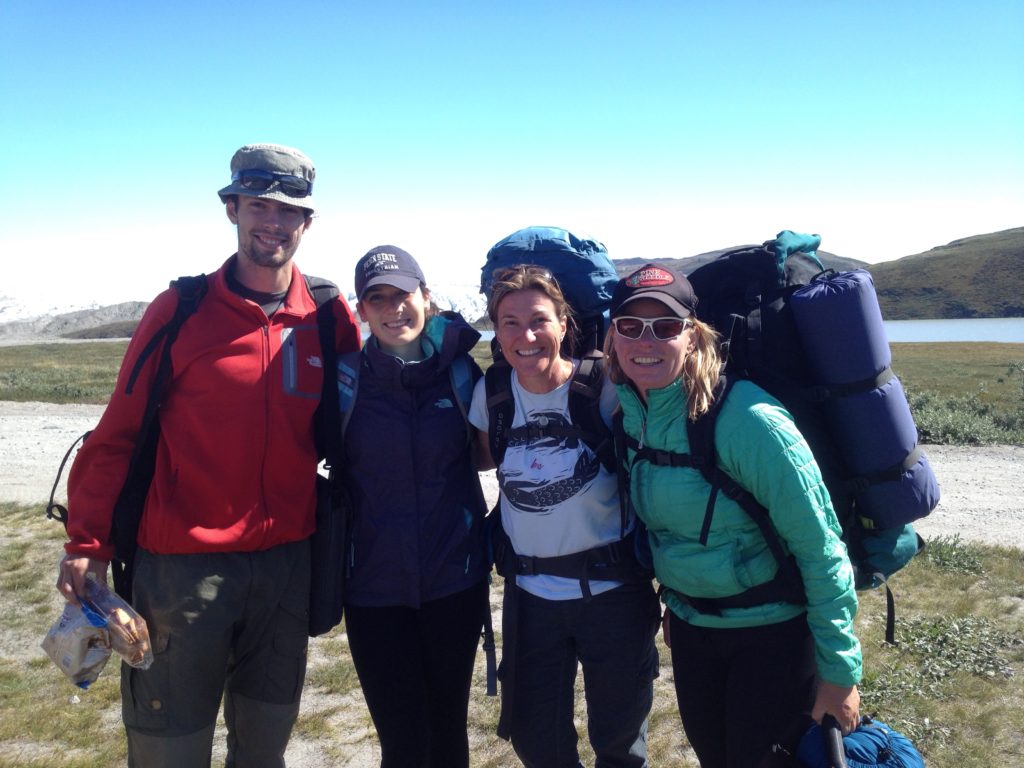 ---